It's hard to believe, but the 17th season of America's Got Talent recently premiered which means it's once again time to begin the search for the country's top stars.
While nearly everyone who auditions during the show does so on stage, there was one audience member turned contestant during Tuesday night's episode that caught everyone's attention, including the judges'.
Prior to her "impromptu" performance, Madison Baez Taylor shared with AGT that despite being only 11, it was always her dream to appear on the show. The California native has been attending tapings of the show since she was four years old.
"I'm the biggest fan there can be of America's Got Talent," she said. "And here I am."
While the other AGT hopefuls anxiously awaited their turn to audition, Maddie was asked if she'd like to watch the show from the audience. She happily agreed and sat in the audience with her father.
The judges were unaware she was in the audience.
During commercial breaks, a microphone is passed around allowing members of the audience to sing to keep the crowd engaged. Moments before they were to begin filming again Maddie was given the microphone.
Chills
Maddie got out of her seat and sang a breathtaking version of "Amazing Grace."
Not only did she receive a standing ovation, but all of the judges turned to see who in the audience was singing.
At the suggestion of Simon Cowell, she immediately went on stage and auditioned performing a powerful and tearful rendition of "Amazing Grace."
"We do ask people in the breaks if they'd like to sing a song and I was literally just coming back in and I heard this voice, thinking, 'Who the hell is that?'" Cowell said. "And then I see this little thing in the audience and it's you."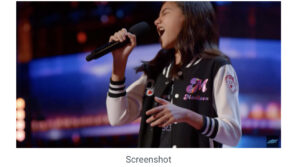 When asked how she would spend the $1 million prize money, Maddie said, through tears, that she would use it for cancer research.
Her father Chris has been battling stage four cancer for the past nine years.
"I've been battling cancer for the last nine years, and that's how she learned to sing," he said after joining his daughter on stage. "She would sing to me at the hospital throughout my surgeries, throughout my chemo treatments. She'd sing to me and helping me get better, and I'm doing very well."
The Golden Buzzer
Finally it was time to vote, and while it seemed like a no-brainer, Howie Mandel made everyone's decision easier by hitting the Golden Buzzer and sending Maddie straight to the live shows.
It was an extremely emotional moment for everyone in the theater, and no doubt a dream come true for Maddie.
You can watch the touching audition play out in the video below.
"I'm not kidding. In all the years we've ever done this, this has never actually happened before. I normally leave during the break because people do sing, so this is actually the opposite. It actually brought me back into the room," Cowell said.
Maddie's audition brought tears to my eyes. I hope she goes far in this competition! She deserves it so much.
Please share.