A 110-year-old man from Ecuador who, along with his 104-year-old wife, was crowned the world's oldest married couple, has died.
Julio Mora died in his sleep beside his wife of more than 79 years Waldramina Quinteros at their home in Quito, as reported by LadBible.
In August of this year the happy couple were congratulated by the Guinness World Records for being the world's oldest couple.
The pair dated for 7 years before they married on February 7 1941, against their family's wishes.
Congratulations to Julio Cesar and Waldramina, the oldest married couple with a combined age of 214 years!https://t.co/xcjYlEuRPp

— Guinness World Records (@GWR) August 26, 2020
"It was not easy because our relatives did not have a good relationship, but with time and patience we were able to unite them and we became an example and the best reference for the younger generations," the couple recalled, according to the Guinness World Records.
The pair married with only their godparents and closest friends present but it didn't stop them having a long and happy life blessed with 5 children.
In a statement they said: "For us, Julio Cesar and Waldramina, it is a great honor and pride to have a Guinness World Records title because it is the highest award that the world recognizes.
"It is true that at this time it is difficult because we are overwhelmed by the pandemic that affects the world and we still do not have a solution. However, the first step for us is to follow the rules with respect and love life."
Julio had four surviving children, 11 grandchildren, 21 great-grandchildren and nine great-great-grandchildren with Waldramina. They also had another son who died at the age of 58.
Waldramina claimed they never argued or fought, having only disagreed on "trivial things".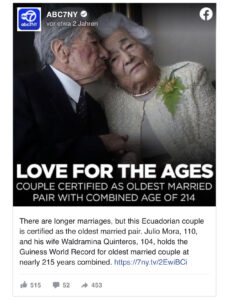 Such sad news and my heart goes out to his widow and extended family. Rest in peace Julio. Please share.