The 12-year-old girl who took a bullet to the head in the act of protecting her 18-month-old niece managed to survive, and their attacker now faces 80 years in jail.
According to reports, sisters Makayla and Canisha Saulter, 12 and 29 respectively, were loading up a U-haul to help their aunt move house when a neighbor opened fire.
Shortly after the attack, which occurred on October 30, 2020, Anthony Smith, a cousin of the family, said: "I don't know if it was racially motivated, but he wanted to kill my family.
"He was standing like 10 feet away, just firing and wouldn't stop."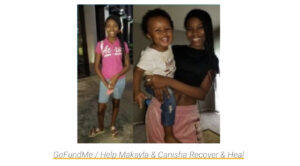 Police arrived to find Makayla lying on the ground clutching Canisha's 18-month-old daughter, Winter.
The baby was miraculously unharmed, but 12-year-old Makayla had a bullet wound to her head.
"I don't know what I'd do if my baby was to get hit," Canisha told Kare11. "But by the grace of God, [Makayla] saved…Makayla is our hero."
The young girl was rushed to hospital in critical condition, but amazingly she was able to pull through after surgery to remove a piece of her skull. Incredibly, she returned home after just two months.
One month after her release from hospital, Makayla's missing piece of skull was replaced, and she was photographed holding baby Winter in her arms.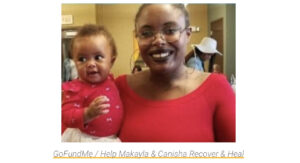 Canisha, meanwhile, was shot in both legs during the attack and had to undergo physical rehabilitation to learn to walk again.
48-year-old Jason Michael Mesich was charged by police, both for the shootings of Makayla and Canisha and the murder of his wife, Angela Lynn Mesich.
According to reports, Jason had got into a fight with his wife because they weren't having enough sex. Angela is said to have challenged her husband to shoot her if he was unhappy, and he did.
The enraged neighbor then set his sights on the Saulters, saying that they weren't "good neighbors". After the attack, he also claimed that he "hated all children".
Jason faces 80 years behind bars for his reprehensible actions.
Thank God Makayla and Canisha were able to survive this cold-blooded, completely callous attack.
Share this article to join us in sending prayers and thoughts as the sisters continue their recovery.