In 2008, the whole world was shaken by actor Heath Ledger's tragic death. It's hard to grasp, but it's been over 14 years since the talented Australian actor passed away and left a whole world mourning.
It remains unclear as to why the 28-year-old Heath Ledger ended up in such a downward spiral, but one thing that we know for certain is that he loved his daughter, Matilda, more than anything.
And if he could see how she's doing today and what she looks like, I'm one hundred percent sure Heath would have been incredibly proud of his daughter…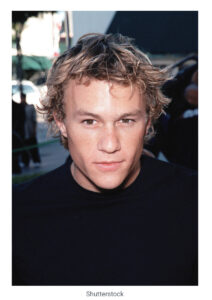 Sister inspired him
Heath Ledger's acting talents would take him on a trip all the way from school plays in Western Australia to the most significant motion pictures in the world. And even though he died only 28 years old, Heath managed to accomplish more than many actors do in a lifetime.
He was born in 1979 in Perth, Australia. His mom was a French teacher, and his dad was a racing car driver and a mining engineer. Already at a young age, Heath developed his interest in acting and he was a raw talent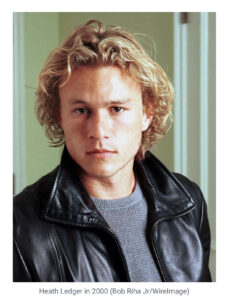 Heath Ledger in 2000 (Bob Riha Jr/WireImage)
Heath was also very close to his older sister, and she inspired him to pursue a career in acting. As a hunky, twenty-year-old actor, he almost instantly made an impression after moving to Los Angeles.
His breakthrough came with the romantic comedy 10 Things I Hate About You in 1999. One year later, the handsome Aussie actor was hailed for delivering a memorable role in the blockbuster movie The Patriot.
But it would take a few years before he was cast to the movie that really changed Heath's life forever.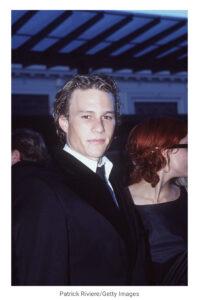 Meeting Michelle Williams
When Heath Ledger was offered the role as Ennis Del Mar in Brokeback Mountain in 2004, he nearly turned it down. But after being encouraged by this then-girlfriend, Naomi Watts, he decided to give it a go.
That decision would have a lot of consequences.
First of all, his portrayal of Ennis Del Mar, the rough and silent cowboy from Wyoming, became a career-defining role for Heath Ledger.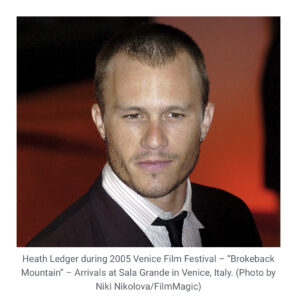 While working on set, he fell in love with actress Michelle Williams.
Sparks flew when the pair met during the production of Brokeback Mountain in the summer of 2004; Michelle played Alma, the wife of Heath Ledger's character.
Years later, the director Ang Lee would reveal that the couple's love story began Michelle Williams was sent to the hospital on the first day of shooting the movie. She had twisted her knee and apparently, Heath Ledger was holding her hand all the way to the hospital. He "tried to comfort her and it was pretty obvious he was interested in her," Lee told USA Today.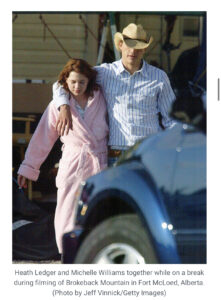 The two actors became very close during the making of the iconic movie. In fact, Heath and Michelle lived in the same tiny trailer van while recording.
"It was really beautiful. Yeah it was very romantic. We were suddenly thrown into a little husband-wife situation. Our bed, honestly, was no bigger than that little round table there. My legs would hang off this far at the end. But it was worth it. And it was comfortable, somehow," Heath told journalist Christine Spines back 2005.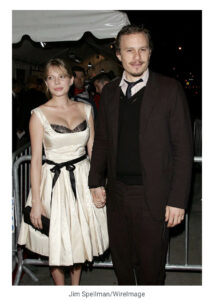 Ledger had fallen head-over-heels in love with Williams, one year his junior. It wasn't long before the pair were starting to plan their future together.
"We talked about having children very early. I have always known that I wanted to become a young father," Ledger said in an interview, according to Australian site News.
Stay-at-home daddy
One year after her father and mother started dating, Matilda Rose Ledger was born on 28 October 2005. She came into the world just before Brokeback Mountain premiered.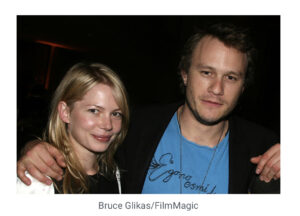 Four months after his daughter's birth, Heath decided to become a stay-at-home dad so that Michelle could focus on doing movies.
"I'm going to try not to work at all this year and send Michelle out to bring in the cash. I'll be Mr. Mom. It's something that's very important to me – something that every dad, if he can, should do his best to achieve," Heath said and continued:
"My life right now is, I wouldn't say reduced to food, but my duties in life are that I wake up, cook breakfast, clean the dishes, prepare lunch, clean those dishes, go to the market, get fresh produce, cook dinner, clean those dishes and then sleep if I can. And I love it. I actually adore it."
Becoming a father exceeded all Heath's expectations and he once said that it was "the most remarkable experience I've ever had".
"Matilda is adorable, and beautifully observant and wise. Michelle and I love her so much. Becoming a father exceeds all my expectations. It's the most remarkable experience I've ever had — it's marvellous," Ledger said in 2005.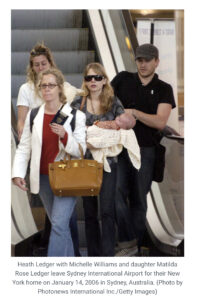 At the same time, he had mixed feelings when speaking of the broader meaning of becoming a dad and provider for a child.
"It's like a Catch-22: I feel good about dying now because I feel like I'm alive in her, you know, but at the same hand, you don't want to die because you want to be around for the rest of her life," Ledger said after Matilda's birth.
In 2007, Ledger and Williams decided to end their three-year relationship, opting to mutually go their separate ways. The former couple remained close friends right up until Ledger's untimely and tragic death.
At the time the actor passed away his daughter Matilda was just two years old, so Williams ensured she was kept out of the limelight when it came to the press.
The actress herself, who loves doing small-scale independent films, was in Sweden, recording for the movie Mammut, when she learned about Ledger's passing: "Please respect our need to grieve privately," Williams said, at the time.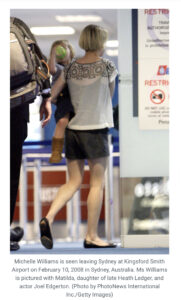 "My heart is broken. I am the mother of the most tender-hearted, high-spirited, beautiful little girl who is the spitting image of her father. All that I can cling to is his presence inside her that reveals itself every day. His family and I watch Matilda as she whispers to trees, hugs animals, and takes steps two at a time, and we know that he is with us still. She will be brought up in the best memories of him."
In November 2016, Williams appeared in a rare interview, during which she discussed raising Matilda without her father.
"In all honesty, for pretty much everything else, I feel like I'm a believer in not fighting circumstances, accepting where you are and where you've been," Williams said.
She continued: "In pretty much all senses but one, I would be able to go totally down that line of thinking were it not for Matilda not having her dad. You know, that's just something that doesn't… I mean, it just won't ever be right."
Matilda's family tried to keep her away from the spotlight during her formative years. But now, however, pictures of the girl have begun surfacing online.
Today, Matilda is a beautiful 16-year-old teenager who apparently has her father's "energy". A couple of years ago, pictures emerged of her on a trip with her mother; images that showed her to bear a striking resemblance to her Oscar-winning dad.
Newer pictures of Matilda show that she really is the spitting image of her late father. Actually, she's a beautiful mixture of both immensely talented parents.
"She has a lot of energy," says Kim Ledger, Heath's own father.
"She's got an enormous number of his mannerisms. She's very inquisitive, she's got his energy, cause Heath never slept from when he was two and Matilda's like that. She is this little ball of energy and she radiates this little aura," Kim told Channel Ten's The Project in a past interview.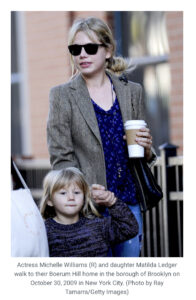 Net worth
After Heath's passing, the family confirmed that Matilda will inherit the entirety of Heath's fortune. The actor's wealth is estimated to sit at around some $20 million. In his will, he left the money to his parents and his three sisters.
However, that will was scribed back in 2003 – two years before Matilda Rose was even born. But Heath's father, Kim, has said that the family does not intend to take the money for themselves. Every penny of Ledger's fortune will go to his daughter and will be held until she is of age.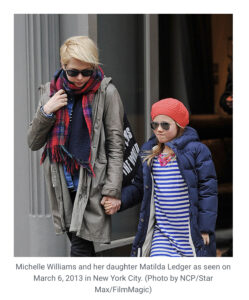 Matilda Ledger today
Today, Matilda lives in Brooklyn, New York, and she's been raised by Michelle. Her mom is currently married to the American theatre director Thomas Kail, and her godfather is Jake Gyllenhaal, the famous actor. He co-starred with Michelle Williams and Heath Ledger in Brokeback Mountain.
She has spent chiefly her life out of the limelight, but once in a while, photographers catch her on the streets of New York, often alongside her mother.
In 2020, Matilda Ledger became a big sister when her mother welcomed a child together with Thomas Kail.
Of course, Matilda is her own person. But her parents are and we're great. I'm sure she takes after both and I'm sure both are extremely proud of the young lady she's become!