A 2-year-old boy is left orphaned after losing both his parents in just over a year's time. Andrew Trujillo died in a car crash late last month, revealed California Highway Patrol Officer Jason Bettini. Trujillo had been driving in the nearby area of California's Yosemite National Park when his vehicle veered off the road and came to a violent stop after hitting a tree.
Relatives believe that the accident was caused due to the snow and ice that was present on the road at the time, per ABC affiliate KFSN. The 27-year-old suffered fatal injuries as a result and later died in a hospital. At the time of the accident, Trujillo's girlfriend and three children — including his 2-year-old son, Drew — were also in the vehicle. Thankfully, they survived the impact according to The Fresno Bee.
Per authorities, the three children and Trujillo's girlfriend were immediately transported to a local hospital for treatment for their minor injuries. The late father's uncle, Charles Stone, has since been left heartbroken about little Drew's situation. "Baby Drew is now an orphan," he shared. "We don't even know what the future holds for him. We're all concerned about him because he's got so much tragedy."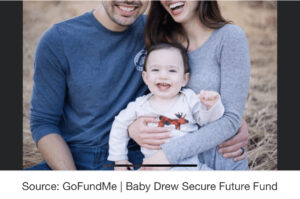 The life-altering accident occurred 15 months after Drew lost his mother. She died by suicide in September 2020 while expecting another child, who tragically did not survive the incident. Family members were revealed that the woman was battling postpartum depression among other things at the time. What they never expected was for her son to end up losing his father shortly after.
To make sure that Drew has a secure future, his relatives have organized a GoFundMe campaign. "Baby Drew is a happy little two-year-old whose world has been torn apart. Dad, Andrew, worked as a paramedic in the small mountain town of Mariposa, CA. His mom, Stacey, was a stay-at-home mom, spending her days caring for him and his dad," read the fundraiser. "Stacey became pregnant with their second child, a girl, during COVID. Already into her third trimester of pregnancy, deeply affected by postpartum depression… and shockingly took her own life."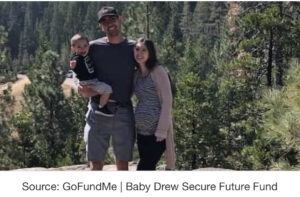 "Dad and son began rebuilding their lives without Stacey. Baby Drew struggled a long time with the loss of his mom. Too young to understand his feelings of loss, but able to feel the pain of them," it continued. "Tragedy struck the struggling pair its final blow on the day after Christmas, 2021. Driving home in winter conditions, baby Drew survived the car accident that took the life of his only living parent, Andrew."
"Alone in the world, baby Drew needs help. His father needs to be buried. He needs help to continue on without his parents. His basic needs and hope for the future," read the fundraiser. The boy's uncle, John, is now helping Drew cope with the loss of both his parents along with the rest of his family. "It's hard enough to explain where mom was," he said according to PEOPLE. "Now it's hard to explain where daddy's at."
Cover image source: GoFundMe | Baby Drew Secure Future Fund
Disclaimer: If you are having thoughts about taking your own life, or know of anyone who is, please contact The National Suicide Prevention Lifeline at 1-800-SUICIDE (784-2433)