A 4-year-old child has died after accidentally shooting himself with a gun he found in his mother's care. The shocking incident happened in a parking lot right outside Publix supermarket on Panola Road in Dekalb County, Georgia.
According to DeKalb County Police, Miyell Hernandez had arrived at the parking lot on Sunday with his mother, an infant sister, and a 13-year-old relative. His mother, who has not been identified, went inside Publix leaving the kids in the car. At some point during this time, Miyell reportedly picked up the unsecured gun and took aim at himself.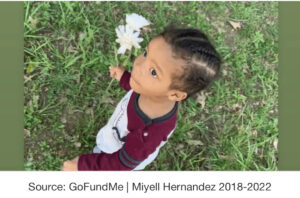 Soon after the weapon went off, the boy's 13-year-old coursin rushed inside the store to get help but unfortunately it was too late. "When she turned, she saw my nephew … she went for help and that's it. Two bystanders called 911 and by then he was already gone," recalled Miyell's heartbroken aunt Maria Hernandez during an interview with 11 Alive.
At about 5 p.m. little Miyell was rushed to the hospital but was pronounced dead immediately. The boy's other aunt, Guadalupe Woods revealed that the kids had been instructed to remain in the car while the unidentified mom went inside the store to purchase a birthday cake. "This moment will forever be remembered as my dad's birthday with the death of our only boy that we have besides my brother in our family," she told Daily Mail.
While police claimed that the gun had been insecurely stored in the car, Miyell's grandmother, April Griffin, said that her daughter wasn't a gun owner. Griffin was devasted by the news as she couldn't make sense of how her grandson ot his hands on the gun when his mom did not have one. "He's innocent and he's so pure. Even though he's not here, we know he went to heaven. We know it," she told the Atlanta Journal-Constitution. She dearly misses Miyell as Griffin said, "We talked all the time," through tears. "I never felt that kind of love. I never knew nobody could love me like that."
As for the DeKalb Police Chief Mirtha Ramos, she expressed, "Our hearts and thoughts go out to the Hernandez family. We're imploring gun owners to always keep their guns safe and secure." Although police haven't filed any charges yet, Ramos said that the investigation was still open. "We don't ever stop until we come to a conclusion, and so we are still actively investigating so we understand everything that happened," noted Ramos.
A GoFundMe page was set up to help the family during this tough time.
Cover image source: GoFundMe | Miyell Hernandez 2018-2022