As the nation comes to grips with yet another school shooting, stories of heroism and survival are being to emerge.
It's been reported that Irma Garcia and Eva Mireles shielded their 4th grade students as the gunman began firing into their classroom. And moments after he muttered, "You're going to die," Amerie Jo Garza, 10, dialed 911. She was killed before she could connect to a dispatcher.
Another 4th grader's family has come forward to tell their daughter's harrowing story of survival.
In order to give herself a better chance of surviving, Miah Cerrillo, 11, smeared blood on herself so she appeared dead to the shooter.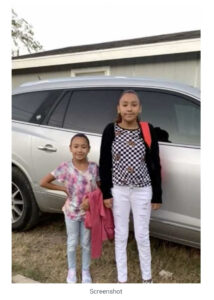 Miah's aunt Blanca Rivera told KPRC that her niece went into survival mode after she witnessed her teacher, best friend, and classmates executed right in front of her eyes.
"My sister-in-law said is that [Miah] saw her friend full of blood, and she got blood and put it on herself," she said.
The 11-year-old had bullet fragments in her back, but has since been treated and released from the hospital.
? Prayers to the families & community of Uvalde, TX. This MUST stop, when guns are loved more than people, children, & humanity we mourn, we lose, and it's got to stop! #Uvalde #StopGunViolence pic.twitter.com/T9oD2a4AJR

— Angel Gomez (@AngelGomez143) May 25, 2022
When she returned home Miah, who also has a younger sister who attends Robb Elementary School and was uninjured during the massacre, everything seemed okay. But hours later, the young girl couldn't hold it in any longer.
"I think it just hit Miah. I think everything came to reality. We're home, and she's just crying and having a panic attack," Rivera recalled her sister-in-law telling her.
The family said at this point they feel as if they only thing they can do is "pray and ask God to help us move forward through this situation." They will continue to be there for Miah in any way that she needs.
It is so hard to fathom what these poor babies went through. They were sitting in their classrooms when suddenly their lives changed in an instant.
We need change, and we need it now.