A sweet 8-year-old boy tragically passed away in a snowmobile crash in Oneida, New York on Sunday. However, the circumstances surrounding little Jayden Donaldson's death still remains a mystery. In a press release the Oneida City Police Department revealed that the single-snowmobile crash occured around 2:28 p.m. on private property on Sylvan Street.
Although authorities regarded the crash as an "accident" they did not reveal any additional information about what actually caused it. That being said the "investigation is still ongoing." Little Jayden's death has left his parents Jolene and Tom Donaldson Jr. devastated beyond words.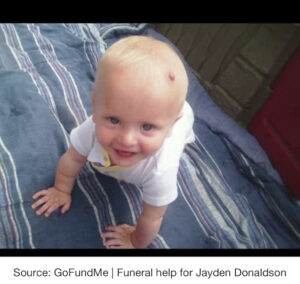 Speaking to PEOPLE, his mother Jolene noted that she was not present when the accident actually happened. Apparantely, Jayden was with his gradfather and sister Katelyn, 7, at the time of the incident. Although police are still investigating his death, his mom believes that all evidence surrounding the crash "adds up to nothing but pure negligence."
"Me and my husband just want to know why our son is gone. Our little boy needs justice as to why this happened," she demanded before describing her child as a "sweet" and "amazing little boy." She shared, "He was the brightest little boy around. He had a smile that could light up everyone's mood. His family and friends meant the world to Jayden, he was loved by so many people."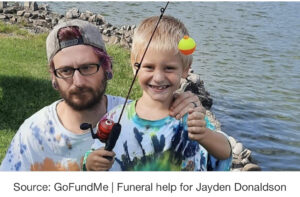 Meanwhile, the Oneida City School District Superintendent Matthew Carpenter annouced the tragic news on Sunday afternoon in a message to the school community. "Please don't hesitate to reach out to your child's teacher, counselor or principal if you need support in the coming days," he expressed encouraging families to come forward and get help if needed.
"Our thoughts and prayers remain with the student, the family and the greater Oneida community. We will have this team available for students and staff as needed throughout the week," he continued. As for the boy's heartbroken parents, they have created a GoFundMe page to raise enough money for a proper funeral.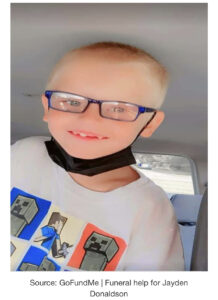 "Yesterday February 27th 2022 my son Jayden Donaldson was tragically killed. Jayden loved to go fishing and be with his family. The entire incident is under investigation. Please help us celebrate his life.. Jayden was a very sweet and loving boy," read the page. The excess amount will be donated to Oneida's Police Department, his parents said explaining that it was Jayden's dream to be a cop since "he could start talking."
Cover image source: GoFundMe | Funeral help for Jayden Donaldson