In uncertain times where we're doing everything we can to look after ourselves and our families we may have forgotten about the true needy out there.
But here to remind us of the kindness we must continue to show to others is 9-year-old Nathan Simons who did a remarkable thing to help his local homeless shelter.
Like all youngsters Nathan, from Rock Island, Illinois, enjoys watching YouTube videos, much to the concern of his dad Ethan.
But his dad's concerns were allayed when Nathan saw something on YouTube that inspired him to empty out his own personal savings to buy supplies for a local homeless shelter.
The fourth grader watched a YouTube video of people giving money to homeless shelters and was inspired.
"I told my dad a couple of hours later when I got done watching the video, 'I wanna do what they did,'" Nathan said, as per CBS Local.
Nathan then got in touch with his local shelter and asked for a list of items they needed, he then went with his dad to their local bank and they each withdrew $150 from their accounts.
Nathan's money was all of his savings from the past 18 months.
Nathan bought shoes, gloves, barbecue sauce, and hot sauce as requested by the shelter and even some treats such as pop and cookie cakes. "It makes me feel happy and proud of myself," Nathan said.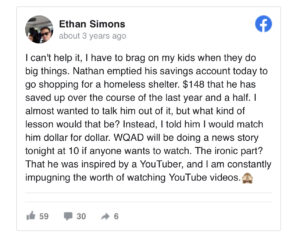 Waiting for them at the shelter was Cindi Gramenz, development coordinator, who told Nathan: "You know you're doing an awesome thing, right? You're helping a lot of people.
"At nine years old, to be feeling that kind of compassion for the work we do and for what's going on in his community is pretty amazing," she added, according to the Epoch Times.
Nathan's proud dad took to Facebook to share his son's big-hearted gesture: "I can't help it, I have to brag on my kids when they do big things," he wrote.
'The lesson learned from a growing heart'
"I hope a few are inspired to do the same, Ethan. I love this," one Facebook user wrote. While another added, "raising a great young man there, Ethan."
One user reminded us all of the true importance of giving at such a young age: "Nathan, has realized the joy of giving is so much greater than the joy of receiving! The lesson learned from a growing heart showing compassion to other's is a very very valuable lesson indeed!"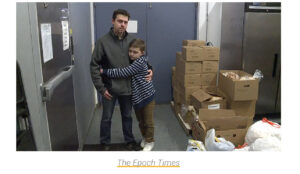 Please share to inspire others not to forget the most vulnerable in their communities during such difficult times.