A 7-year-old girl is tragically left fighting for her life after a visit to the park. Quinlynn, a resident of Kansas, walked to a park alongside her two brothers and mother Jenna Jones on Saturday. Strong winds ended up breaking a branch that fell 30 feet from an elm tree and ended up fracturing the youngster's skull.
According to WIBW, the intensity of the blow was such that it ended up featuring her skull in two places. Quinlynn now remains at Children's Mercy Hospital in Overland Park struggling to survive. A GoFundMe page created by the second grader's family described her condition as critical.
"Quinlynn Irene Jones, a second-grader at St. Mary's Grade school, was in a terrible accident on Saturday, April 23th 2022. While playing outside, she was hit in the head by a falling tree branch and is currently in critical condition. "This GoFundMe is for any medical expenses and/or time off work that her mama will miss as she will be staying by her side!" read the page.
"If you could please help this family out in any way possible!! Prayers for her healing are also greatly appreciated!! Thank you all soo much! For any updates on this sweet girl you can join her page on Facebook named, Quinlynns Climb! Thank you and God bless!" it continued.
The administrator of the family's Facebook group, Ruth Ann Park, shared that Quinlynn's mother does not blame anyone for what happened to his daughter. "This was a true freak accident, that again, every minute detail had to be in alignment for it to occur. If one millisecond would have been different, we would not be here," shared Parks.
This was a true freak accident, that again, every minute detail had to be in alignment for it to occur. There is no blame, no anger, just acceptance that this is where we are now. We do not know, nor can we pretend to know, what the plans for Quin must be," she added. In a recent update, Parks shared that Quinlynn might need surgery for the depression fracture on her skull, however her loved ones are hoping that the swelling reduces so she doesn't have to undergo an operation.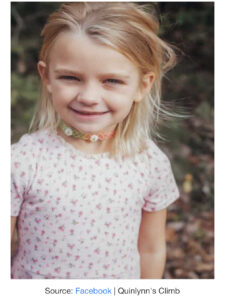 "There is a chance….. a small possibility that with enough rest, that the swelling can go down, and that surgery will not be required. We set our sights to a new endeavor. Perfect rest. No hurry or anxieties about when she will wake up," wrote Parks.
ADVERTISEMENT
"The last 4 days have felt like a month, and Jenna has lived a lifetime in these 4 days. This mighty little lady has A POSSIBILITY, to not need surgery, and that would be a main [ingredient] to this Miracle.. So we hold onto that. She made it through what would have killed any adult instantly," she added. Doctors are optimistic about Quinlynn's recovery but they still don't know how much brain damage may have occurred due to the accident.
ADVERTISEMENT
Cover image source: GoFundMe | Quinlynn Jones's Medical Expenses