Adam Sandler is one of the biggest comedy stars of our time starting out on 'Saturday Night Live' and going on to become one of the highest-paid actors in Hollywood.
But few know that he credits his success to his supportive wife who although started out as an actress now often stays behind the scenes.
The 55-year-old has been married to his wife Jackie Sandler since 2003 after meeting her on the set of the 1999 movie Big Daddy.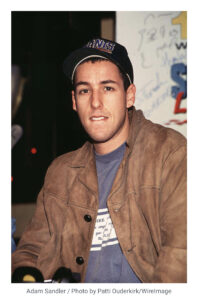 It was Jackie's second movie role after transitioning from modeling and had just appeared in her first movie Deuce Bigalow: Male Gigolo where she'd played the small part of Sally. The film's star Rob Schneider noticed her and put in a good word to his friend Adam Sandler who cast her in the Big Daddy movie.
Although it was only a bit part as a waitress for the then Jacqueline Samantha Titone, it ended up leading to a major part of marriage to the rising star Adam Sandler.
Adam Sandler's wedding
Jackie converted to Adam's religion of Judaism and the two got married in June 2003. Sandler, who was 36 when he tied the knot with Jackie, had a special guest as ring bearer and best man – his bulldog Meatball.
Friends, family, and high-profile actors were invited to watch the outdoor ceremony, including Hollywood stars such as Jack Nicholson and Rob Schneider.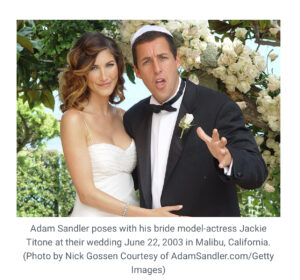 They have two daughters Sadie and Sunny and when they're not devoting their time to their children they're supporting each other's careers.
Sandler often gushes over his Florida-born wife saying how encouraging she is, even when it comes to love scenes, something he's repeatedly shared with the actress Drew Barrymore who he's appeared in four movies with.
Appearing on the Ellen DeGeneres show with Drew Barrymore in 2014 he was asked about the many love scenes the two have shared and Sandler was quick to point out the encouragement he receives from his wife during those scenes.
"It's like the best thing that my wife loves Drew so much that she encourages me! There's no jealousy at all. She's just like, 'Get in there!'" he laughed.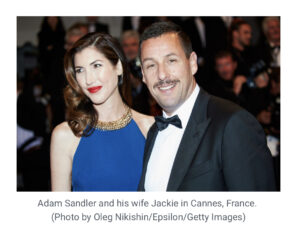 The funnyman went on to reveal that once on the Blended set, while filming a love scene, he was sure he was doing a good job, "like – Okay, moving on, let's go, that was great, Drew. Good job.
"And I'm walking away and I just see my wife like shaking her head, and she says, 'Just please, for the sake of women, get in there and just look a little more alive!"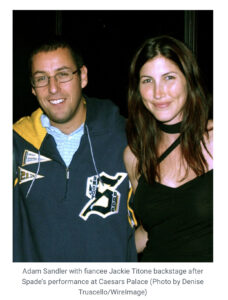 Sandler often casts his wife in his movies, many through his own production company Happy Madison Productions, with the two appearing in 50 First Dates, Just Go With It, Little Nicky, Grown Ups, and Grown Ups 2.
Some of his movies have also featured his children with oldest daughter Sadie making her first movie debut when she was just 2 years old. She played alongside her dad in 2008's film Bedtime Stories. Since then, the 15-year-old has appeared with her dad in Grown Ups and Grown Ups 2, Jack and Jill, and Blended.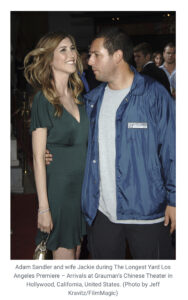 Adam Sandler's youngest daughter, Sunny, also had supporting roles in his films. She played in That's My Boy, and Jack and Jill. The now 13-year-old also voiced several characters, including the ones in the Hotel Transylvania series.
Over time Sandler has moved into more serious roles such as Punch-Drunk Love, for which he was nominated for a Golden Globe, and Reign Over Me (2007), a drama about a man who loses his entire family during the September 11 attacks.
Sandler credits his wife with giving him the encouragement to move out of his comfort zone telling Ellen in 2019 that when he was sent the script to play a gambling addict in crime drama Uncut Gems it was his wife who pushed him to take it.
"I read it, I loved the movie, but I was scared to do it. Then I asked Jackie to read it.
"We do this together, me and Jackie, we discuss what I'm going to do, and she gives me strength and courage to jump into this stuff," he said.
The two undoubtedly offer the support they each need in a world which can often feel lonely at the top. Sandler also says he recognizes when his wife is unhappy and encourages them to talk through their issues.
"You know when your wife's not the happiest she's ever been, or husband, and it's good to [talk it out]. Just an hour hanging out together makes us rocking again," he told ET Canada.
"If I feel the energy of 'I can't stand you Adam,' I say 'Come on, let's head down the road, let's get you something' and we're sitting, just talking. I'll just listen to [Jackie] talk about anything [she] wants to talk about."
As for marriage advice, Sandler had some very smart and simple tips. "Just getting time together," he told reporters at the Toronto International Film Festival, according to Closer Weekly.
"Making sure that you don't run off too long and hanging out together and telling the truth and that kind of thing's good."
I love that these two have a relationship that isn't constantly under the spotlight yet it's clear from the journey they've had together they have an unshakeable union.
Their marriage reminds us that communication and honesty is the key to a successful relationship no matter who you are.