After hearing that someone at his high school had put a boy's shoes in the toilet, senior Skyler Carter decided to show up at the boy's door with a new pair of shoes for him.
Meghan Hendrix had learned what happened to her son, Tanner, at school, and she shared in a post online that it "broke her mama heart."
"Last week at school Tanner had someone take his shoes and put them in the toilet. This absolutely broke my mama heart ?…" Meghan wrote.
Then the following week Meghan's family heard a knock at the door. It was a senior at Tanner's high school named Skyler. He had heard about what happened to Tanner, and the kind soul decided to go buy him some new shoes and to deliver them himself to Tanner at his home.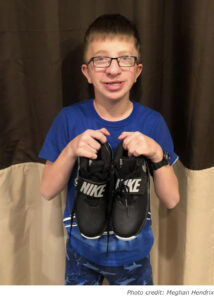 "Then tonight a senior from his school showed up at our door. After hearing what happened he wanted to buy Tanner new shoes. This act of kindness has me in complete awe," Meghan wrote.
Their door camera recorded the sweet moment, as Skyler showed up with the shoes.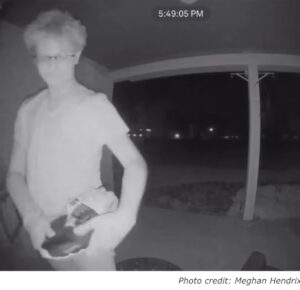 "I heard Tanner had his shoes dropped into the toilet so I'm here to replace them," Skyler said.
"Are you sure?" Tanner's dad could be heard saying.
"Yeah," Skyler tenderly replied.
"Thank you," Tanner said, to which Skyler replied, "You're welcome."
"Yeah I heard about that and I was just like… awww man… kids can be mean," Skyler said.
"Well that is amazing. Thank you so much," Tanner's dad replied.
Tanner's mother was deeply grateful for the kindness Skyler showed to her son.
"I am forever grateful to this boy for being there for Tanner and for reminding us all what it means to just be a good person. ❤️ #imnotcryingyourecrying #okimcrying #blessedandgrateful #spreadpositivevibes" she wrote.
She also replied that their family had mentioned it to the school, and that the school had handled the situation very well for everyone involved.
"Yes we did report it and the school handled it very well. In the end it was a very positive outcome for all sides. ? The school was able to find out who did it and after talking to Tanner, the kid that did it gets picked on and teased quite a bit at school. Tanner said he's just going to be sure to be extra nice to him because he needs friends! ??" Meghan wrote.
Many online have shared words of encouragement for Tanner and also how appreciated and meaningful Skyler's act of kindness was.
"God bless! Thank you Tanner for being such a special young man and I thank the high school senior for his act of kindness! One person can make a difference! Be that one someone in somebody's life! We could change the world!" commented Connie B.
"That was so nice of the senior. Tanner do not let that incident stop you in any way from your dreams. You are loved and cherished by many," wrote Donna S.
"So sorry Tanner had to go through that. Kudos to the sweet boy who bought him new sneakers and to the boys wonderful parents for bringing up such a kind and caring young man," wrote Mary R.
"Wow!! Heart breaking and heart warming at the same time! Such a cool outcome! Thanks for sharing!" commented Brittani H.
Watch this video of Skyler dropping off new shoes for Tanner: