Angela Lansbury is a true icon from the Golden Age of vintage Hollywood. The British actress got her first Academy Award nomination at 19, and she boasts two(!) stars on the Hollywood Walk of Fame.
Lansbury has acted in films and on television well into her 90s, a career spanning eight decades in total. Today, she's 96 years of age, but still has no plans on slowing down.
Recently, the legendary actress revealed that she still feels young – and she has one specific secret as to why she is still doing so well.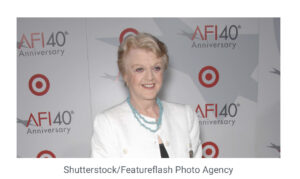 Angela Lansbury became interested in acting as a young girl, and it was actually a tragic incident made initially pushed her towards thinking of a career in the business.
Born Angela Brigid Lansbury on October 16, 1923, in London, England, she suffered immense grief when her father passed away when she was just nine years old.
Angela Lansbury – early life
Angela – called Brigid by her family when growing up – was filled with heartbreak, but performance became something of a tool to help her through it all. She revealed that it was" the defining moment of my life."
"Nothing before or since has ever affected me so deeply," she told Closer. "I became something of a dreamer, lost in my grief [and] much more interested in acting, following the example of my mother."
Moreover, Angela explained that she always wanted people to notice her when she was a child. So she was pretty much always acting – even though she didn't know it herself.
"At the age of 11 or 12, I remember sitting on buses and trying to look interesting. Or I would get people's attention by saying something kind of outlandish that simply sounded as if I knew something they didn't know.
"[I was] taking on the emotional and mental aspects of somebody other than Brigid. So I was acting through a great deal of my life without even realizing that that's what I was doing."
Lansbury's mother, Moyna Macgill, was an actress with roots from Belfast. As World War II approached, the Lansbury family left England for New York in August 1940. Since the widowed mother was a very well-respected actress in the British Isles, she soon found herself working on Broadway.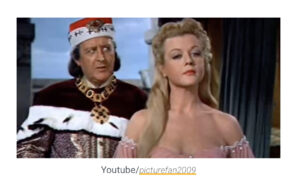 Angela studied acting at the Feagin School of Dramatic Art in New York, and appeared in several school productions. Just two years later, though, her family moved to Los Angeles.
Academy Award nomination, at 19
There, she had to help to support the family. Angela worked at a department store as a gift wrapper – and it forced her to grow up fast.
Of course, being a gift wrapper wasn't her dream job.
She was still hoping for a career in show business – and in 1944, she got her first significant role when she starred alongside Ingrid Bergman in Gaslight, playing the housemaid, Nancy. She celebrated her 18th birthday on set.
"That was a thrilling experience, to work with Ingrid [Bergman], who was so kind. It was sort of a dream world," she recalled.
"I was so young; I was really awed by what I was being asked to do. And when you're challenged like that, you damn well do your best."
Even though it was her first ever professional role, the then-19-year-old Angela Lansbury showed the whole world that she was a pro from the start. She was nominated for an Academy Award for Best Actress in a Supporting Role for Gaslight. A year later, she was nominated for another Academy Award for Best Actress in a Supporting Role for The Picture of Dorian Gray.
The success of Gaslight brought Angela Lansbury instant fame, and the big studios wanted a piece of it.
She secured a seven-year contract with film studio Metro-Goldwyn-Mayer, earning around $500 per week. She also had the option of changing to a stage name at that point but decided to continue using her own.
Angela Lansbury – family, husband & children
Angela's career was moving at the speed of sound. She starred in several films each year, always having a character to play. Her roles included the 1944 film National Velvet and the 1946 film The Harvey Girls, where Angela starred alongside Judy Garland.
Many of Lansbury's roles had one thing in common; she often played characters much older than she was.
In her 30s, she played several motherly roles – without the use of aging make-up. Incredibly, only three years separated her and her on-screen son Laurence Harvey in the 1962 film The Manchurian Candidate. The picture also brought her a third Academy Award nomination for Best Actress in a Supporting Role.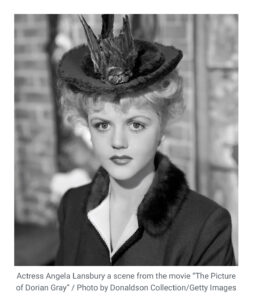 "I had no adolescence," she told The Gentle Woman in 2012. "And I was too busy preparing to become an actress. It never occurred to me not to go on, not for one second. Nor did I think I was missing anything."
Lansbury lived a dream life during the '40s, having a contract with MGM and making several films a year. She also married her first husband, actor Richard Cromwell in 1945, though their union only lasted a year before they got divorced.
In retrospect, Angela has admitted that she was naive to marry Cromwell. She was young, and he was 15 years her senior. The good-looking Cromwell had made a name for himself after roles in "The Lives of a Bengal Lancer" and "Jezebel" – but he also carried a great secret that threatened his career.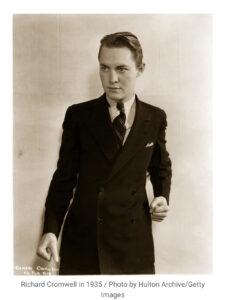 When Angela found a note from Cromwell declaring that their marriage must end, she was devastated. She did not understand anything, and it was only when Cromwell's publicist told her that the actor was gay that Angela understood why their marriage became an impossibility.
Being gay in Hollywood was not something you openly displayed; it was not accepted, and marrying Lansbury was like a kind of smokescreen for Cromwell.
The marriage lasted only 1 year but still, they remained great friends until Cromwell's passing in 1960.
Angela thereafter remained single for several years, but it didn't take long before she met the true love of her life, Peter Shaw.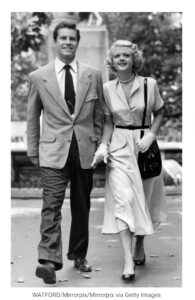 Angela and Peter met while working as actors at MGM. Both were born in England, and they married in London in 1949. Shaw had some success as an actor, though he would become more famous as an agent, working with the likes of Robert Mitchum and Katharine Hepburn.
Husband Peter Shaw
Later on, he and Lansbury would even work together, as Shaw was a producer on one of Lansbury's most famous projects, the CBS television series Murder, She Wrote.
"We had the perfect relationship," Angela Lansbury said of their marriage in 2014.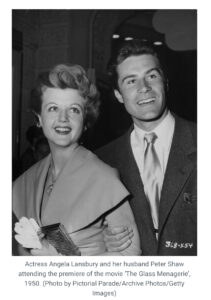 "Not many people can say that. He was everything to me: we were partners at work as well as husband and wife and lovers. I don't know how we had such a long marriage, but the simple fact was that we were devoted to one another."
Angela and her husband Peter went on to welcome two children. In 1952, son Anthony Pullen Shaw was born. One year later, they welcomed daughter, Deidre Angela Shaw.
The couple had a wonderful union that lasted over 50 years. Unfortunately, in 2003, Peter sadly passed away of congestive heart failure in their home in Brentwood, California. Losing the love of her life was a massive tragedy for Angela, who sunk into a deep depression, closing herself off from the world for a while.
She knew that she had to start over, but didn't know quite how.
"I just knew I had to wait, and the moment would arrive when I had to look at the surface again and find a way to mend the rift inside my soul," Angela explained.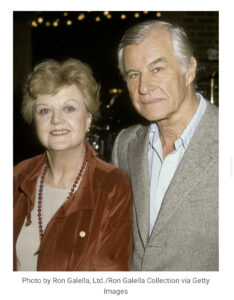 Success on 'Murder, She Wrote'
Writing in the Belfast Telegraph, she looked back on a marriage that made her truly happy.
"I had a wonderfully happy marriage to Peter. We were both doers, we had the same sort of energy. We did everything for the family, and that was our mutual thrust at all times."
She added: "We had our moments when we could have hit each other out of the ballpark, but it didn't allow us to think that we couldn't make it through."
Now, Angela didn't only do great things as an actor in her youth. Throughout her entire life, she's performed in front of the screen, earning both Academy Award nominations and stars on the Hollywood Walk of Fame.
In 1960, Lansbury received her first star on the Walk of Fame in the Motion Pictures category, then landed one in the Television category, too.
In 1984 she once again became the talk of the town as she appeared as writer Jessica Fletcher in the U.S. television series Murder, She Wrote. Her agent had advised her to star in another sitcom television series, but history tells us Angela made the right move – the show was a huge success, while Lansbury stayed on it until 1996.
"It was a slice of my career that was totally unconnected to anything that I had done before," Lansbury told Star2.com in 2018.
"Making Jessica Fletcher the character I ended up playing took me several years. She started off a little bit goofy, but I finally made her a woman of my age and of my intellect.
Angela Lansbury – net worth
"I think that is what made her such an appealing character of the world — because she was somebody that people could understand and make part of their lives."
She received a staggering 12 Primetime Emmy nominations, though never won despite the fact she was nominated almost every year.
"It pissed me off!" she told the Radio Times in 2017.
"Because I just didn't add up at all in Hollywood. Everywhere else in the U.S., Murder, She Wrote was huge, but not in Hollywood — no, no, no, they didn't want to know. I wasn't upset… Well, I was upset, really. It rankled me. I can't say it didn't."
At that point, Lansbury wasn't only performing in front of the camera. She had also branched out to Broadway, appearing in several productions, including Sweeney Todd and A Little Family Business.
However, her true passion remained on-screen. Though she might be irritated by never getting a Primetime Emmy Award, she's won five Tony Awards and six Golden Globes throughout her career.
In addition, Angela was also awarded a CBE by Queen Elizabeth in 2014. As such, she's now known as a Dames Commander of the Order of the British Empire.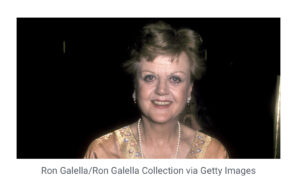 According to Celebrity Net Worth, Angela has a net worth of around $70 million. As of today, she's reached the ripe old age of 96. She recently celebrated her birthday at her home, surrounded by family.
Angela Lansbury today
"I feel fortunate, indeed, to be able to celebrate with my dearest family here in California," she told Closer.
One might forgive her for wanting to rest on her laurels and enjoy some well-deserved time off. Angela, though, isn't thinking about retirement.
She's also become a great-grandma, and the entire Lansbury clan enjoys spending time together.
"As she's getting older, she wants to be with her kids and grandkids," Angela's stepson David Shaw told Closer. "She's a great lady. She always put family first."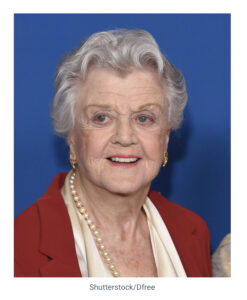 Angela enjoys her life to the fullest. Every day, she has one glass of wine and takes several vitamins, which she says keep her full of energy.
"I've never been particularly aware of my age. It's like being on a bicycle – I just put my foot down and keep going," she said, according to Express.
"I never look at my face and think, 'God, you're getting old or think of running out of steam."
Angela Lansbury has had a remarkable career. That she now gets to enjoy time with her big and beloved family makes us so happy, and we wish her all the best in the years to come.
Please, share this story on Facebook with friends and family to honor the great Angela Lansbury!