Anna Nicole Smith is one of the most iconic models ever.
During the '90s, it wasn't easy to go outside without seeing her face or body on billboards.
Unfortunately, as we've seen so many times, her fame and fortune ultimately became her downfall. But her memory and legacy live on through her daughter, the now 15-year-old Dannielynn.
Dannielynn Birkhead
Anna Nicole Smith died in 2007, but just a few months before her passing she gave birth to her second child, a daughter named Dannielynn.
Dannielynn Birkhead, named Hannah Rose Marshall Stern at birth, was born on September 7, 2006, in Nassau, the Bahamas. The little girl weighed 6 pounds, 9 ounces, according to Anna who revealed the big news in a video on her website.
Dannielynn's world was marked by tragedy and confusion at the start of her life. Sadly, her older brother, 20-year-old Daniel, died just days after Dannielynn's birth.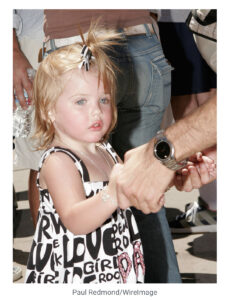 Then, just a few months after, her mom died after an accidental overdose. Anna Nicole Smith had been ill for quite some time after giving birth to Dannielynn, and there were signs that she didn't know how lethal her combination of different medications was.
In fact, her death could have been avoided.
"If she would have gone to the hospital she wouldn't have died, because she wouldn't have had the opportunity to take the excessive amount of chloral hydrate," Broward County Medical Examiner Dr. Joshua Perper told Today.
In the wake of her famous mother's death, Dannielynn quickly became one of the most talked-about children in the world. Her upbringing was surrounded by drama and speculation.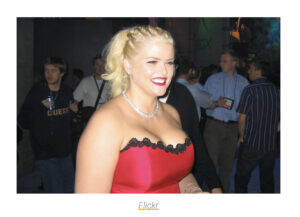 To begin with, several men stepped forward and claimed to be the girl's dad. Anna Nicole Smith had put Howard K. Stern as the father on the birth certificate. Howard. K Stern was both Anna's domestic partner, attorney, and agent – so it seemed logical that he was Dannielynn's father.
The problem was that more and more men stepped forward and claimed paternity. Larry Birkhead, Anna Nicole Smith's boyfriend, claimed he was the father. Then Alexander Denk, Anna Nicole Smith's bodyguard said he could be the dad. And lastly, Prince Frederic von Anhalt, husband of Zsa Zsa Gabor, claimed he had an affair with Anna Nicole Smith for ten years.
The court eventually ordered a paternity test that revealed that Anna Nicole's boyfriend, Larry Birkhead, was in fact Dannielynn's dad.
"I hate to be the one to tell you this, but I told you so. I'm the father. My baby's going to be coming home pretty soon," Larry told reporters outside the courthouse in Nassau, the Bahamas, in 2007.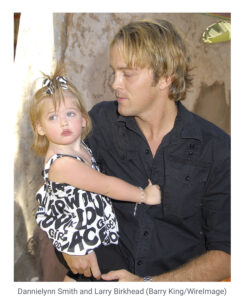 The listed father on Dannielynn's birth certificate, Howard K. Stern, decided to put the girl's interest first hand. He told CNN that he would cooperate and "make sure" Birkhead got sole custody of Dannielynn.
"We're going to do what we can to make sure that the best interests of Dannielynn are carried out," he said.
Considering the dramatic start of her life, people worried about the little girl's future. Unfortunately, we don't have to dig deep in the archives to find examples of celebrity children who go down the wrong track, having to put up with a life they didn't ask for.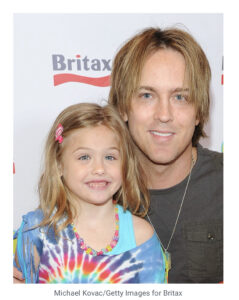 Thankfully, Dannielynn had strong support from her father. Larry decided to remove his girl from the spotlight and away from all the media attention. Dannielynn enrolled in a regular school, was in the scouts, and went to church every Sunday.
"She knows that her mother is famous and that things would have turned out different if they could. Anna would be painting her fingernails, she would be taking her to buy dresses. And she would be doing all these things that I am happy to do, but obviously something she doesn't have," Larry said in 2013.
Nowadays, Larry and his daughter are rarely seen in public, but every now and then, the duo show up – for example, they are regulars at the Kentucky Derby. Currently, Dannielynn resides with her father in Louisville, Kentucky.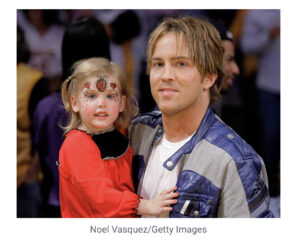 Dannielynn is not interested in modeling and doesn't like having people's eyes on her. She just wants to be like any other young girl in her age. But she has actually put on a special campaign with Guess to honor her late mother.
"Dannielynn has always looked up to her mom's image and … I think this is kind of Dannielynn's way of paying tribute to her mom in her own special way," he told Good Morning America.
However, Dannielynn has said she might follow in her mother's footsteps and become an actress. The 15-year-old has appeared on several shows with her father, including Life after Anna, Wife Swap, and The Millionaire Matchmaker.
"It's really cool to like, act as a character and not yourself. It's like portraying a new person. It's fun," she says.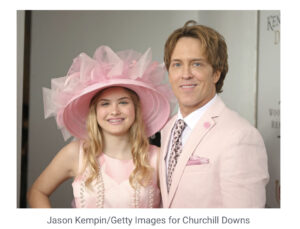 Anna Nicole Smith's high-profile marriage with petroleum tycoon J. Howard Marshall made headlines all over the world in 1994. The 63-year-old age difference between Anna and her elderly husband raised many eyebrows – a lot of people were of the belief that Anna was only interested in Marshall because of his fortune.
Larry Birkhead later testified that their love was real.
"That was no act. She genuinely has some kind of a deep love for him," he said. "Now, I don't know if it was the kind of, you know, physical type of thing, but it was what he did for her and what he did for Daniel and that he changed her life," Larry told ABC News in 2017.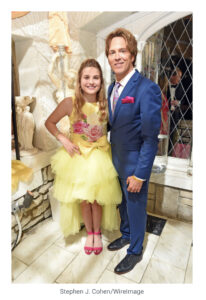 J. Howard Marshall died in 1995 at the age of 90. After that, Anna Nicole Smith fought with Marshall's family over her husband's will and the case went all the way to the U.S. Supreme Court in 2006, and it was decided that Anna was entitled to some of her late husband's fortune.
After Anna's death, legal experts thought that Dannielynn could receive almost $50 million of the $1.6 billion fortune Marshall had.
But in 2013, a federal judge denied her claim and ended the discussion.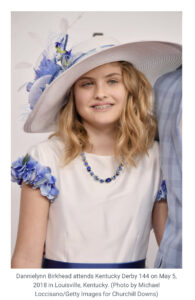 Even though she lost a decade-long legal battle, Dannielynn seems to be living a decent life and financially stable. That's all that counts! We wish her a happy future!