Disney star Annette Funicello won the hearts of so many after becoming a Mouseketeer on the original "Mickey Mouse Club" at just 12 years old.
The New York-born actress and dancer had started dance and music lessons to help overcome her shyness, but little did she know that it would lead to almost immediate stardom.
But as fast as she rose to fame she disappeared from our screens in the late 80s, hiding a condition that saw an end to her career, a condition that she hid from friends and family for many years.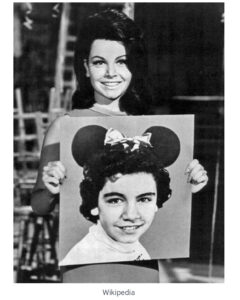 Born in Utica, New York to Italian American parents Funicello moved to Southern California when she was four years old. There she took dance and music lessons to overcome her shyness.
After being discovered at a dance recital by Walt Disney himself, Funicello made her on-screen debut playing a Mouseketeer on the original Disney TV show "The Mickey Mouse Club",
Funicello signed a 7-year contract with Disney and by the end of the first season, she was receiving 6,000 fan letters a month, according to her Disney Legends biography – more than any other Mouseketeer.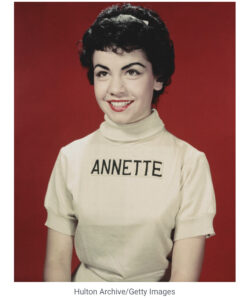 With her warm and energetic attitude, her smile charmed everyone and she stood out from the rest of her co-stars on the show – with more than a nose.
At the time, she was every pubescent boy's dream and their first crush. During an era when not even the most significant adult stars were identified with only their first name, everyone knew who you meant when you said "Annette."
Many girls also identify with her, she was a Beautiful woman and a good actress and singer and also a great role model for young people.
The young star was also even given her own 19 episode series called "Annette," where she played an orphan girl from the country who goes to the big city to live with her uncle and aunt.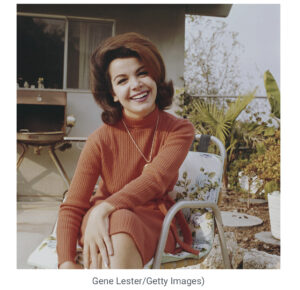 Following her Disney career, she became a teen idol starring in a series of Beach Party movies with Frankie Avalon which was so successful she was given another seven-year contract, this time with American International Pictures.
She had dated singer Paul Anka who said Funicello was as sweet and as talented as she appeared on the big screen.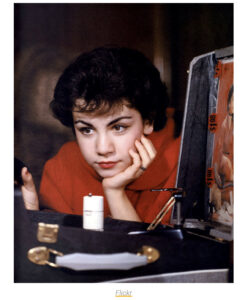 He explained: "Not a malicious thing (was) ever said about her."
He added: "All of a sudden, you had this cute-looking, lovely person with a great soul that emerged and stepped out from everyone. Her loveable personality, and her sincerity, people just gravitated to it."
The two broke up and five years later Funicello married Anka's agent Jack Gilardi who she had three children with; Gina, Jack, and Jason.
They divorced 18 years later and Funicello married racehorse trainer Glen Holt, who like Gilardi, was 12 years her senior.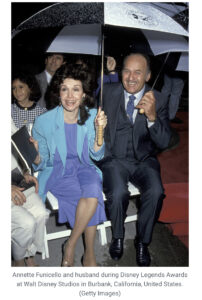 When she was 45 years old Funicello reunited with Frankie Avalon for a series of promotional concerts to promote their film Back to the Beach. She began to suffer from dizziness, headaches, and balance issues and was diagnosed with multiple sclerosis. For the next five years, she hid her condition from her family and friends.
But the media speculated that she may have a drinking problem so to combat rumors she publicly revealed her MS diagnosis in 1992 and the following year she opened the Annette Funicello Fund for Neurological Disorders at the California Community Foundation.
In 1995, Funicello appeared on the Disney TV documentary on the 40th anniversary of "The Mickey Mouse Club", but spent the next 15 years out of the public eye as her condition led to the loss of her ability to walk and speak; she even required a feeding tube.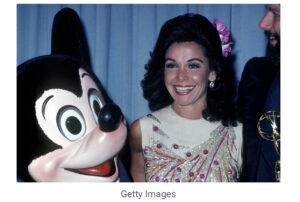 Holt, who has stayed with his wife since she was first diagnosed, declared:
"When she got diagnosed … I told her, 'I will take care of you, and I'll do everything I can.'"
Her husband really did everything he could, spending the next 25 years trying to research and test everything that could help his wife from surgery to implant electrodes in her brain to an interventional radiologist remaining forever hopeful that his wife's condition would improve.
"I see changes. And you know to me when you can see some changes like they always say, where there is smoke, there is fire, I see something that is very positive, and it needs to be researched further," he said.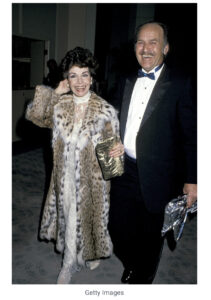 But on April 8, 2013, the actress sadly passed away at aged 70.
In a statement announcing her death, Disney chairman and CEO Bob Iger said: "Annette was and always will be a cherished member of the Disney family, synonymous with the word Mouseketeer, and a true Disney legend.
"She will forever hold a place in our hearts as one of Walt Disney's brightest stars, delighting an entire generation of baby boomers with her jubilant personality and endless talent.
"Annette was well known for being as beautiful inside as she was on the outside, and she faced her physical challenges with dignity, bravery and grace."
Everyone loved Annette Funicello! She was beautiful and set a great example for all teenagers. Loved her on Mickey Mouse Clubb and her movies with Frankie Avalon. It was so sad that she had MS and suffered so much!
Such a beautiful soul who shouldn't have had to endure such a cruel condition for so long. I hope she is finally at peace. Please share.