A lot of times, when unfortunate incidents take place where people are the victims of a crime, we often wish we had a hero who could sweep in to save the day. Luckily, for the passengers of this train involved in a robbery, this is exactly what happened…
It was early in the morning, about 5:50 a.m., on the Blue Line train at Chicago's Cumberland station when 30-year-old felon Tremaine Anderson was quietly working his way from car to car, robbing passengers on the train at gunpoint.
When Jean-Paul LaPierre saw a lot of passengers heading in the wrong direction, he asked them what was wrong and was told about the armed robber.
Hearing the news, unlike other passengers turning away, he decided to take a different route and approach the armed robber!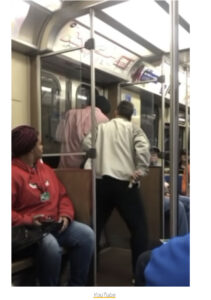 The Boston native had passengers point out the thief to him. The 52-year-old immediately approached Anderson and demanded he hands him his weapon. After which, he expertly disarmed him, calling on his training as a trained fighter.
LaPierre, who was in Chicago to run a marathon, could not stand quietly as he saw a crime take place in front of his eyes and decided to intervene. Of course, his past training in fighting helped him expertly and safely maneuver the situation.
Seemingly, Tremaine Anderson was much taller and stronger than the 52-year-old Bostonian. However, he was able to intimidate him and slip the gun out of his hand as he cornered him against the train's door.
In the video, he can be heard issuing a warning to the criminal. "I'm a boxer. I'll break your head in one punch. I could hit you 7 times in 3 seconds."
He threatens Anderson, telling him that he is a black belt in karate and not afraid to use his skills.
As LaPierre held the robber trapped under his left arm, he asked another passenger to grab the gun and turn its safety on. LaPierre kept the robber cornered till police arrived.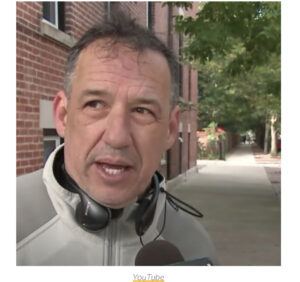 After the police took over, the robber tried his best to resist arrest and flee their custody, but LaPierre intervened again and expertly flipped Anderson over so the police could handcuff him.
Unlike others, LaPierre could not stand by and watch a crime happen. Even while Anderson's suspected accomplices asked LaPierre to leave their friend, he made sure not to give in and to get Anderson arrested.
After all of this excitement, LaPierre still went on to complete the 12th Chicago Marathon. He made sure to smile big for the camera, after having a clear conscience from doing the right thing.
One of the other participants in the marathon was also a victim of Anderson's crime on the train and he made sure to take time to thank LaPierre for his intervention.
Anderson was charged with robbery with a firearm. And he apparently already has an extensive criminal record with charges such as robbery, battery, and public indecency, among others. He is currently being held without the option of a bond.
LaPierre's quick thinking and brave attitude helped save dozens of people from being robbed or worse. He truly is a hero in every sense of the word!
Share the story of LaPierre's inspiring act of bravery with your friends and family.