It's no overstatement to say that Barbara Walters paved the way for women in the news industry. The legendary journalist became the first woman to co-anchor network morning and evening broadcasts, and has interviewed virtually any celebrity – from Hollywood stars to dictators – you can think of.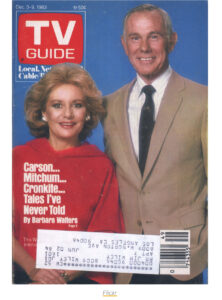 Now, sadly, the 92-year-old's health seems to be declining, according to reports.
There are few faces on television that have been more recognizable over the last half century. For 50 years, Barbara Walters ruled the news, interviewing hundreds of people all over the world, providing Americans with gripping stories, interesting information, laughter and tears and a whole lot more.
In 2014, Walters said goodbye to the news for good. Today, she's 92 years old and still living in New York. But worrying reports – as yet only speculation – say the iconic broadcaster and author has advanced dementia.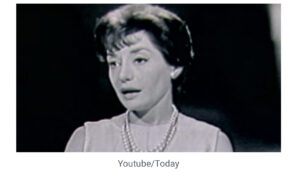 Barbara Jill Walters was born on September 25, 1929 in Boston, Massachusetts, to parents Dena and Lou Walters. Her father had one foot in show business and also ran a night club.
Barbara Walters
According to The New Yorker, her father Lou was the inventor of Latin Quarter, described as an "American version of the type of Parisian night club that had elaborate floor shows with dozens of expensively costumed chorus girl."
The first years of Walters's life was tough, with her father ended up broke. In 1937 however, he opened up his first Latin Quarter, which later expanded to spots in Miami and New York. Business was booming, and the Walters family soon moved to "The Big Apple", occupying the entire floor of an apartment building just off Central Park West, The New Yorker reports.
"Because my father was in show business and because there were these ups and downs, I always felt that I had to work to take care of myself," Walters explained.
However, Lou lost everything. The nightclub was soon gone, together with their apartment in the middle of New York. It tore the family apart.
"He had a breakdown. He went down to live in our house in Florida, and then the government took the house, and they took the car, and they took the furniture," Walters said in an interview with NY Times in 1996.
"My mother should have married the way her friends did, to a man who was a doctor or who was in the dress business."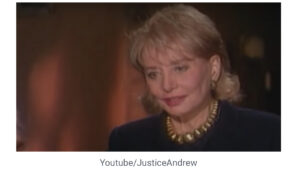 Walters went on to study English, earning a Bachelor's degree from Sarah Lawrence College in New York. She graduated and, shortly afterwards, her her career in TV began.
Rise to fame
Post-college was irrefutably an important time in Barbara Walters's life. In February of 2015, she donated $15 million to Sarah Lawrence College towards the Barbara Walters Campus Center. Truly a beautiful gesture for the next generation!
Walters worked as a secretary before getting a job at NBC's New York affiliate WRCA-TV. She rose to become a producer and writer. She moved on to work as a news, public affairs producer and writer at CBS, before returning to NBC in 1961.
It didn't take long before Walters was famous. In the early '60s, she worked as a writer and segment producer of women's interest stories on the morning program The Today Show, as she described in her book Audition: A Memoir.
As a result, Walters gained more airtime on the program, and soon was a TV star in her own right.
In 1964, she became the "Today Girl", delivering great pieces of journalism with feature stories.
Paved way for women
But most importantly, she became a pioneer. All of a sudden, a woman was sitting on The Today Show's panel of commentators and newsreaders, paving the way for women in journalism. Then, in 1974, she was made co-host on The Today Show with Hugh Downs, which made her the first woman to co-anchor network morning and evening broadcasts. The following year, she won an Emmy for her work.
Of course, usually one should not look only at awards in assessing one's career. But in Barbara Walters's case, the awards tell the story.
In total, she was nominated for 33 Daytime Emmy Awards, winning three and garnering an honorary award to boot. Further, Walters was nominated for no less than 11 Primetime Emmys during her career, of which she won one. She was also nominated for 19 News and Documentary Emmy Awards, winning seven of them.
In addition, Walters was ranked #34 on the TV Guide "50 Greatest TV Stars of All Time" list in 1996. In 2000, she received a Lifetime Achievement Award from the National Academy of Television Arts and Sciences. She was honored with a star on the Hollywood Walk of Fame in 2007.
Except from being an amazing journalist and anchor, Walters went out in the world to give the public the interviews everyone wanted to hear.
Barbara Walters – interviews
Throughout her career, Walters interviewed everyone, from world leaders like Donald Trump and Fidel Castro to superstars like Michael Jackson.
She's also interviewed every US president and first lady from Richard Nixon and her wife Pat, through Barack and Michelle Obama. (Walter has interviewed Trump as well, but not during his current role as president of the United States).
As an interviewer, Walters had the skills to get people to open up and speak from the heart, something that also drew the interest and affection of the public.
New York Times tells the story of Barbara being home with a group of friends watching the two-hour interview at her Manhattan apartment. During a commercial break, Walters walked to the window, stating that there wasn't any traffic on 5th Avenue.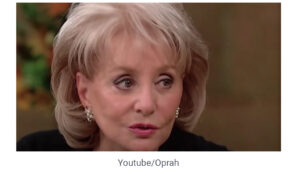 Her friends answered: "That's because everyone is home watching the interview".
An estimated 50 million people watched Walter interviewing the former White House intern about her relationship with then-President Bill Clinton. Statistically, it's the most watched news program in history.
Flirting with Clint Eastwood
Speaking with Oprah Winfrey, Walters reflected over some of the more memorable interviews she conducted.
"I'm touched by Richard Pryor because I saw this brilliant man self-destruct," Walters said.
"I'm going to make a comparison, and you're going to think I'm nuts, but I'm also touched by Margaret Thatcher. I'd talked with her before she was prime minister and while she was in office. I also did an interview with her after her fall. So I saw all those years in a progression. You become emotionally involved. Those are memories I treasure."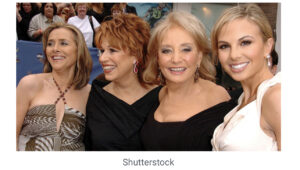 Walters also revealed that she had a crush on Clint Eastwood, and that the two had flirted with one another.
"We did an interview, and he began to flirt," Walters said. "And I fell apart."
Retired in 2014
Barbara Walters went on to host several TV shows, including The View, Today, 20/20, and also the ABC Evening News. In 2013, after working as a journalist for more than 50 years, Walters announced she was retiring.
In 2014, that became reality when she said goodbye. She reportedly remained on as an executive producer of her talkshow The View.
"I do not want to appear on another program or climb another mountain. I want instead to sit on a sunny field and admire the very gifted women — and OK, some men too — who will be taking my place," Walters said in a statement, according to the Los Angeles Times.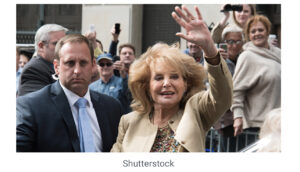 The news landscape was shifting into social media, something she wasn't familiar with. It wasn't as important to watch it on TV anymore, but rather on your cell phone, or the bus, or on your way up an elevator.
"With Barbara's retirement, so goes TV news, longtime news anchor Connie Chung told the New York Times." There's no big payoff for an exclusive television interview with someone for an hour. No one is going to watch it anyway.
Adopting daughter
Walters was a true pioneer for women in the industry, working her way up from the bottom to the very top.
During her career, she was married twice. In 1955, she married business executive Robert Henry Katz. Their wedding ceremony was held at the Plaza Hotel in New York City. Back then, Barbara was just 26 years old, and she had just embarked on her career as a journalist.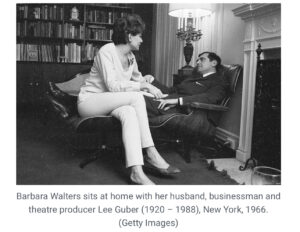 The couple divorced three years later, however.
Then, in 1963, she tied the knot with producer Lee Guber. The couple desperately wanted to have children, but they faced hardships.
Barbara, unfortunately, suffered three miscarriages and struggled to get pregnant after that. During a segment on "The View" in 2011, the show had invited author Joe McGinniss who had written a book about the American politician Sarah Palin.
Things got awkward when Walters confronted McGinniss for insinuating that Sarah Palin's son might not actually be hers.
"Barbara, you've been pregnant, haven't you?" the author said. "You've been in labor."
"No, I haven't [been in labor]," Walters answered and continued:
"Just because you've brought it up, I've had three miscarriages, but I know what it's like to be pregnant."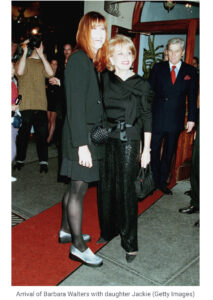 After her miscarriages, the couple decided to adopt a baby girl. They agreed to become parents after a dinner they had with some friends. The friends explained that they had been "given the opportunity to adopt a girl" but wanted a boy instead.
"We had dinner one night with a couple we rarely saw," Walters said.
"The woman said that she had [the opportunity to adopt] a little girl who was blonde and blue eyed. They had lawyers out of state who were looking for this little boy. They wanted a boy who was going to be tall and had blue eyes and fair hair. They didn't want the girl."
So Walters and her husband decided to take the girl in instead.
The daughter, Jacqueline Dena, was named after Walters's sister and mother. The little girl was only four days old when she arrived in her new family.
"I adore my daughter," Walters once said. "To know that you can have this kind of love that I feel for her…"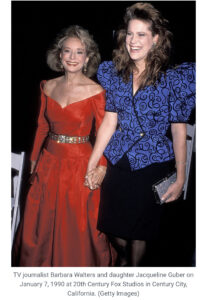 Walters and her husband kept the adoption a secret, and she would later confess why. The reason? Due to respect of the biological mother, Walters didn't want to make a huge thing of the adoption.
During the aforesaid Oprah interview, Walters regretted that she wasn't at home with her daughter more often during the many years of service she gave to the journalism industry.
"I would have been home more—and you and I wouldn't be talking today," she admitted. "It's not just about spending quality time. It's about time in general. . . When 'Jacki'e was going through the turmoil of her teen years, which I don't want to talk about, it was a terrible heartache. But maybe I did something right, because look how she turned out."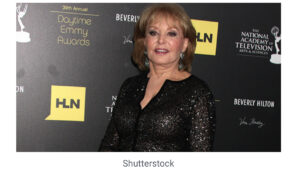 Walters and Guber divorced in 1976, and in 2013, Walters revealed that she regretted not having more children. But her relationship with her only daughter wasn't always a walk in the park. When Jackie was 15, she ran away from home.
In an interview with NBC in 2014, both mother and daughter gave an exclusive insight into their relationship.
"I was a runaway. I loved to run. I thought running would solve all my problems," Jackie said.
"Jackie has found it difficult, all her life, because she wants to be anonymous, she just doesn't like to be a celebrity," Walters filled in.
Her daughter also revealed what her mom used to say, speaking about the adoption.
"She used to say that some mothers have babies from their tummies, and some have it from their heart. And you came from my heart."
Later in life, Jackie also faced some other problems, but after being sent to an "intervention program" in Idaho, she got clean.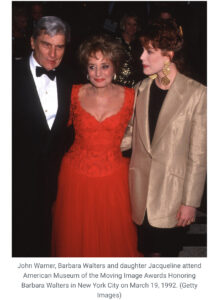 Barbara Walters – dementia
Today, Walters is 92 years old, but several alarming reports state that her health is rapidly declining. We want to point out that this is just speculation at this point, though several news outlets have reported on the subject.
According to Radar, Barbara Walters is suffering from advanced dementia. She barely leaves her bed, and is now having a hard time remembering her friends.
"Barbara suffers from exhaustion and fatigue, as well as anxiety and agitation," a source told Radar in August of last year.
"She's very frail and spends a great deal of the day napping!"
The source added that The View ladies still reach out: "On good days, Barbara can distinguish Joy Behar's voice, but on a bad day, she might just hang up!"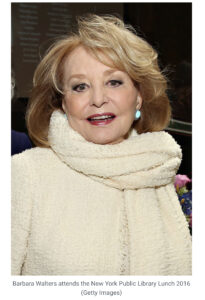 No matter what happens next, we will always think of a wonderful journalist and warm soul when Barbara Walters is mentioned.
She truly is a pioneer and played a very important role in giving women the opportunity to go into TV.
Thank you, Barbara. Please share this story with family and friends.