Hollywood action star Bruce Willis was having cognitive issues on the set of his recent films and was unable to remember his lines before his family stepped in "to take care of him," a source has revealed.
His family has announced the 67-year-old star will be retiring from movie-making after being diagnosed with aphasia – a condition that affects a person's ability to communicate.
According to sources, those working with Willis last year noticed that he was having issues during production on a number of his recent action movies such as Survive the Game, Cosmic Sin and Hard Kill.
A source told Page Six of the Pulp Fiction star: "He was having cognitive problems, they all knew Bruce was having problems."
One of the people who saw this firsthand was the director of the 2020 movie "Out of Death," Mike Burns. According to the LA Times, he wrote to the film's screenwriter and expressed concern for Willis.
"It looks like we need to knock down Bruce's page count about 5 pages. We also need to abbreviate his dialogue a bit so that there are no monologues, etc," Burns wrote.
Burns knew that Bruce had memory problems but did not know how serious it was before they made "Out of Death" together.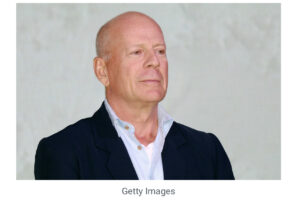 "After the first day of working with Bruce, I could see it firsthand and I realized that there was a bigger issue at stake here and why I had been asked to shorten his lines," Burns told LA Times.
According to Burns, he had to compress all of Willis' scenes, including about 25 pages of dialogue.
Burns felt obliged to call Willis' associates and asked: "How's Bruce?"
As per Burns, he was told that Willis was "a whole different person … way better than last year." "I took him at his word," Burns said.
But Burs would soon realize that nothing had changed when they were shooting the movie "Wrong Place".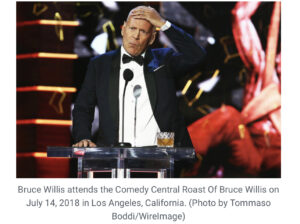 Bruce Willis attends the Comedy Central Roast Of Bruce Willis on July 14, 2018 in Los Angeles, California. (Photo by Tommaso Boddi/WireImage)
"I did not think he was better; I thought he was worse, "Burns said." After we finished, I said, "I'm done. I'm not going to do any other Bruce Willis movies.'
For many people who worked close to Bruce Willis, it was apparent that he struggled. One insider told Page Six, "Everybody knew, the cast and crew. His family has stepped in, they moved in to take care of him."
The source added that Willis was using "earpieces, hearing things, for them to feed him the lines," and "it was increasingly difficult to have him on screen."
The source also revealed that on one of the sets the production team had to use body doubles due to Willis' apparent problems.
"It became very apparent that he was having problems," said the source. "So they'd use body doubles, not just for action [sequences], but for maximizing his screen time."
The crew also had to reduce the actor's screen time because of the issues on one of the sets, according to the source, leaving Willis just required to shoot for three days.
Willis was being allowed to shoot closer to home the source said, "it was becoming super obvious he was having trouble … he could not act anymore."
Willis, the iconic star of the Die Hard franchise, was recently panned by critics for 8 of his most recent movies in 2021 and still has many movie projects on the go including Vendetta, Fortress: Sniper's Eye and White Elephant.
Willis' family announced his condition and that he was stepping away from his career in a statement which read, "To Bruce's amazing supporters, as a family we wanted to share that our beloved Bruce has been experiencing some health issues and has recently been diagnosed with aphasia, which is impacting his cognitive abilities," adding that he'll be "stepping away from the career that has meant so much to him."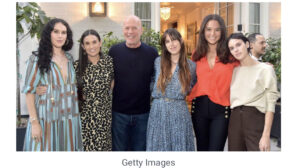 Aphasia is a language disorder caused by damage to the brain, often by a stroke or traumatic injury. People with aphasia often have difficulty speaking, reading or writing, though intelligence is unaffected. The main treatment is speech and language therapies with involvement from family members.
The statement from Willis' family continued: "This is a really challenging time for our family and we are so appreciative of your continued love, compassion and support. We are moving through this as a strong family unit, and wanted to bring his fans in because we know how much he means to you, as you do to him."
The statement from his wife, Emma Heming, his ex-wife, Demi Moore, and his five children, Rumer, 33, Scout, 30, Tallulah, 28, Mabel, 9, and Evelyn, 7, added, "As Bruce always says, 'Live it up' and together we plan to do just that."
Bruce's wife, Emma Heming, is now his caregiver. The actor's aphasia diagnosis has taken a toll on the mental health of Emma Willis, who says she has been struggling.
But she's sticking by her husband's side. Willis and Heming first met in 2007 at their mutual trainer's gym, and they both remarked how in love they were with each other.
The two dated for a year before they got married in March 2009 and the couple's love and support for each other has been visible yet again when it was announced that Willis had been diagnosed with aphasia.
Speaking with The Bump, the 43-year-old model shared, "I put my family's needs above my own, which I found does not make me any kind of hero."
"Someone told me not long ago that when you over-care for someone, you end up under-caring for yourself. That stopped me in my tracks and really resonated with me," Emma said and added:
"I don't mother myself perfectly but I know that I have some basic baseline needs that are a must, like first and foremost, exercise. I think it's important to find that one thing that makes you feel good and build from there,"
It seems that this is the right time for Willis to step away so he can spend more time with loved ones and focus on the treatment that may help him live as normal a life as possible for as long as possible.
Help us wish him and his family the best by sharing this story.