The recent updates regarding Bruce Willis's condition are far from positive, with his wife, Emma Hemming Willis, having confirmed that "it's hard to know" if he's aware that he has dementia.
The iconic Hollywood star retired from the spotlight last year after revealing that he was battling aphasia. Fans praying for a turn of good fortune were then left bitterly disappointed in early 2023, when Willis's family confirmed that he had been diagnosed with frontotemporal dementia.
The blow was one felt keenly by the Die Hard star's many followers, and of course more keenly still by his family. If reports are to be believed, his loved ones have rallied around Bruce in the months following his diagnosis, while his wife, Emma, has assumed the role of his carer.
Since her husband's diagnosis, Emma has done her utmost to raise awareness of his condition, and appeared on the Today show earlier this week for World Frontotemporal Dementia Awareness Week.
During her appearance, the 45-year-old spoke openly on just how difficult Bruce's illness had been for the family to process.
When asked if her famous husband was aware that he had frontotemporal dementia, Emma grew emotional, telling the host: "It's hard to know."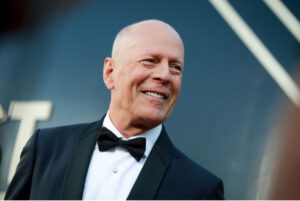 She went on: "Dementia is hard. It's hard on the person diagnosed, it's also hard on the family. That is no different for Bruce, or myself, or our girls. When they say this is a family disease, it really is.
"I think it was the blessing and the curse, to finally understand what was happening, so I can be into the acceptances of what it is.
"It doesn't make it any less painful but just being in the acceptance, and being in the know of what is happening to Bruce, makes it a little bit easier."
By all accounts, Willis's family have rallied around the actor as he's experienced a decline in his general health. Rumors insisted that the star's ex-wife, Demi Moore, had moved in to help Emma and the rest of the family, while Bruce's three adult daughters, Rumer, Tallulah, and Scout, are all doing what they can to lend strength and support.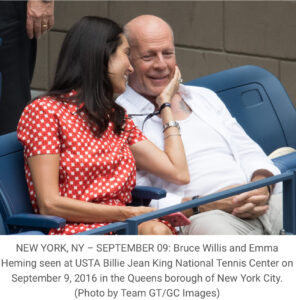 Emma, who has described herself as a "care partner", said: "We're a very honest and open household.
"The most important thing was to be able to say what the disease was, explain what it is, because when you know when the disease is from a medical standpoint, it all makes sense.
"I don't want there to be any stigma or shame attached to their dad's diagnosis, or for any form of dementia.
"There are so many beautiful things happening in our lives. It's really important for me to look up from the grief, and the sadness, so I can see what is happening around us. Bruce would really want us to be in the joy of what is. He would really want that for me, and our family.
"He's the gift that keeps on giving. Love, patience, resilience… For me to be out here, doing this, this is not my comfort zone. But this is the power of Bruce."
We're sending prayers to Bruce and his family.