Twenty-seven years is a long time to stay with one company, especially when you never take a sick day.
That was the case for Kevin Ford, a dedicated Burger King employee whose story recently went viral after he was recognized for nearly three decades of service to the fast food giant.
While the single father of two now grown children, deserved all the pomp and circumstances, all he received was a small goodie bag that contained items more suitable for a business conference than a man celebrating 27 years with one company.
Recently, Ford, 54, marked his nearly three decade anniversary at the Burger King located in the Las Vegas McCarran International Airport. According to his daughter Seryna, he took a job as a cook and cashier 27 years ago when he gained custody of her and her older sister.
Over the years their family grew. Ford remarried, and they were blessed with two more daughters. Seryna said it was all because of Burger King that she and her sisters were able to go to school.
But a viral video put into question just how much Burger King valued one of their most loyal employees.
In the video which has since been shared around the internet, Ford shows the assorted items he received from HMSHost, the parent company. While appearing humble and grateful, Ford shows off a bag of Reese's Pieces, pens, a movie ticket, a reusable cup from Starbucks, and two rolls of Lifesavers.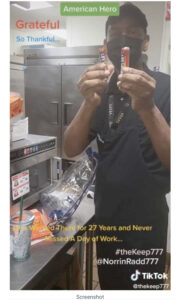 The internet wasn't too pleased.
"I'd guess it was his coworkers or low level manager that bought that stuff with their own money which makes it even more sad," a user wrote on Reddit.
Many called out the fact that the goodie bag he received looked like something handed out at a convention.
In response to the less than stellar gift and people's comments stating he deserved so much more, Ford's daughter created a GoFundMe for her father.
While many questioned why a 54-year-old would continue working at the same low income job for 27 years, Seryna explained he is part of a union and receives "amazing health insurance."
Plus, "he is coming up on retirement age and leaving would cost him his retirement."
"In no way are we asking for money or is he expecting any money but if anyone feels like blessing him he would love to visit his grandchildren."
#FathersDay #FamilyFirst #LiveLiveLaugh #Grateful #Love #theKeep777

Me and My Daughter Seryna,She's So Beautiful!
I'm So Proud of Her…#ProudDad#FordStrong #BlackGirlMagic @NorrinRadd777 pic.twitter.com/58KdtZUzYb

— Kevin Ford (@NorrinRadd777) June 21, 2022
In less than a week nearly $160,000 was raised for Ford. His story became so big that even actor David Spade became aware of it and donated $5,000.
"Keep up the good work," he wrote to Ford on Instagram, according to a screenshot obtained by TMZ.
Ford joked that maybe he'd take a day off, but Spade told him to wait until he hit year 30.
"I've been crying for about two days now. It's just incredible," Ford told TODAY Food. "I just go to work and try to have fun and laugh and make other people's day good. It's like I've been in a dream for almost two days now. It's just so beautiful and awesome. It really is."
Although the initial recognition may have been subpar, Ford said seeing how many strangers were willing to show their appreciation for him was "overwhelming."
"For all those years, you feel unappreciated, but you get up just like everybody else. You do your job, and for somebody to show this appreciation is just overwhelming,"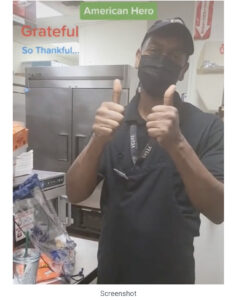 A Burger King spokesperson issued a statement to People regarding Ford's anniversary gift.
"Following review with this location's franchisee, we've learned that this video depicts a Team Member in receipt of a peer-to-peer reward in recognition of a short-term positive performance/experience. The franchisee offers its Team Members a robust employee recognition program, which includes the recognition of tenure milestones and monetary awards."
HMS Host, the company responsible for the viral gift and the company Ford works for Burger King through, has yet to comment.
I really hope Kevin received more recognition than just this little goodie bag from his company. This is such a sad excuse to celebrate a dedicated employee who has worked somewhere for nearly three decades.
Please share to show Kevin how much he is appreciated.