Sophia is a two-year-old who loves dolls, dressing up, and has dreams of becoming a doctor when she grows up.
"In her mind, she is already a doctor," mom Brandi Benner said. "She loves giving checkups, and if you come in the house, she'll tell you that's the first thing you need,"
So in 2017 after the two-year-old had completed a month of potty training her proud mom took her to the store to pick a gift and Sophia knew exactly what she wanted.
The excited toddler was taken to Target in South Carolina to pick out her prize and went straight for the doll that was dressed as a doctor.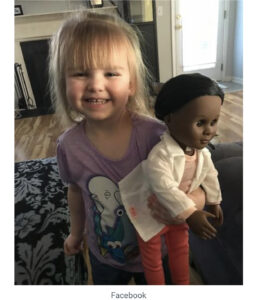 She took it to the register to pay but the cashier insisted on asking the little girl a series of questions which left Sophia's mom fuming.
Brandi took to Facebook to convey the interaction and how her smart toddler had the perfect response before she had a chance to vent her annoyance in the store.
The cashier asked Sophia if she was going to a birthday party and had picked out the doll for a friend, according to mom Brandi's Facebook post.
Sophia stared at the cashier blankly and her mom was forced to explain to the cashier that the doll was a prize for Sophia doing really well during potty training.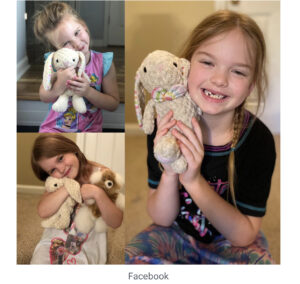 The woman then asked Sophia if she was sure she wanted the doll: "Yes please!" replied Sophia.
"But she doesn't look like you," the cashier told Sophia. "We have lots of other dolls that look more like you."
Mom Brandi said she started to get very angry but before she could step in Sophia had this response.
'Teachable moment'
"Yes, she does. She's a doctor like I'm a doctor. And I'm a pretty girl and she's a pretty girl. See her pretty hair? And see her stethoscope?"
Sophia's response stopped the cashier in her tracks and thankfully she dropped the questioning responding with "Oh that's nice."
Brandi credits the TV cartoon "Doc McStuffins" with teaching Sophia the word "stethoscope." But she credits Sophia for knowing what is important and said another child could have been discouraged by these questions.
"This experience just confirmed my belief that we aren't born with the idea that color matters. Skin comes in different colors just like hair and eyes and every shade is beautiful," Brandi wrote.
Brandi's post was met with one million reactions and more than 50,000 comments.
One user wrote: "She's my kind of girl; you are my kind of mommy!!"
"My little girl loved her black Cabbage Patch baby. She's a redhead with blue eyes and ivory skin. Slept with her and took her everywhere. I'm so proud of her kindness and how she looks deeper than most," another added.
While another wrote: "Beautiful story and hopefully a teachable moment for the woman. Thanks for sharing and keep up the good work!"
It's shocking that a cashier should even question someone's purchase at the register let alone ask a child about the color of the doll that she had chosen.
I'm so glad this toddler was able to silence the cashier and I hope she gave her something to think about.