Chuck Norris has had a long successful career as a martial arts expert and trainer to the stars, Hollywood actor and author who has penned two New York Times bestsellers.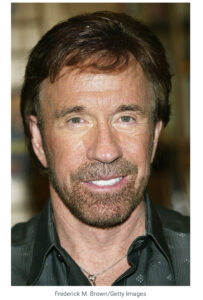 He has opened over 30 karate studios and has taught celebrities such as Steve McQueen and Priscilla Presley. The former U.S. Air Force officer has also appeared in hit movies such as Way of the Dragon, Missing in Action, Code of Silence, and The Delta Force.
But with five children and 13 grandchildren the Oklahoma-born star is also a devoted family man.
The 82-year-old is married to former model Gena O'Kelley and will be celebrating their 24th wedding anniversary together this November.
Last year he took to Instagram to express his love on their 24th anniversary. Sharing a picture of the two of them staring into each other's eyes, he wrote, "My love, my life, my best friend, my world. Happy 23rd Anniversary to my beautiful wife that God blessed me with when we met 25 years ago. I love you with all my heart."
It's clear that the two are still head-over-heels in love. But it wasn't so long ago that Norris was fearful for his future with the love of his life after she became very sick.
Norris met Gena nine years after divorcing his first wife of 30 years Dianne Kay Holechek. The "Walker, Texas Ranger" actor and Gena, a model, tied the knot in 1998.
Two years into their marriage, Chuck and Gena became parents to a set of twins.
But in 2013, Gena visited medical practitioners where she underwent scans to diagnose rheumatoid arthritis. Before the MRI scan, Gena was injected with a contrast agent.
The substance was supposed to create contrast in her organs to give her medical team a clearer outline of the state of her organs and also detect irregularities.
Gena said in an interview that she was concerned the contrast agent was safe and was reassured by doctors that it was.
The 59-year-old mom of two said she had felt different a few days later but wasn't too concerned until a month after she had received the treatment and started to feel "extreme burning" throughout her body – the pain became debilitating.
As Gena's health worsened and she started to experience additional symptoms such as speech and memory issues, as well as persistent tremoring, Norris took a step back from Hollywood to care for her.
Norris transferred his wife to a specialist doctor in Nevada and she was given effective pain relief. The hospital visit would be one of many she would have to make to gain relief from the persistent burning sensations she would experience.
Gena shared in her interview that it felt like acid was poured on her insides. She needed constant care and it was her devoted husband that provided this sleeping on the couch by her side to ensure he was there to help around the clock with whatever she needed.
He even read 17 books to her on her journey through recovery.
The pair sued several health companies in connection to the gadolinium-based MRI that caused her pains, claiming Gena had been poisoned.
The couple filed the lawsuit at a San Francisco court, naming $10 million in damages. They added that the suit was aimed at sensitizing people on the dangers of gadolinium in MRI contrast agents.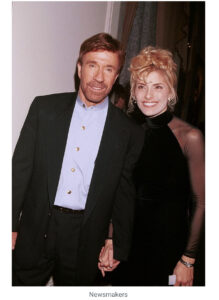 "Over the past several years, my focus has been on Gena's health," Chuck Norris said in a statement to The Washington Post in 2017. "And now we are working together to speak out about the dangers of MRI contrast agents."
In 2020 the couple announced that they were vacating their lawsuit without any settlement.
It seems that Chuck Norris has said goodbye to the film industry but can still be seen in numerous commercials. He now gives his attention to caring for his wife who has made a significant progress in her recovery.
This pair's love story is an inspiration and I hope Gena makes a full recovery and they can continue to enjoy life together.