Dolly Parton was a star even before country music had become popular outside of the U.S.
Her fans in the U.K. couldn't get enough of this larger than life blonde bombshell with an appearance that eluded perfection while remaining very down to earth in her honesty about the lengths she goes to look good.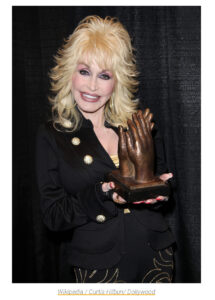 Before hitting the stage for her historical performance in 2014 at the U.K.'s biggest and longest-running festival Glastonbury: "Somebody said: 'Oh, Dolly you always just look so happy,' I said, 'that's the Botox!'" BBC News reported.
As well as her ageless appearance she is also known for her love of elaborate hairstyles that often defy the laws of gravity.
The 76-year-old openly admits that she wears wigs.
"I used to try to keep my own hair teased as big as I like it, and having the bleach and all of that, it just broke off," the superstar told Hallmark's Home & Family hosts Mark Steines and Cristina Ferrare.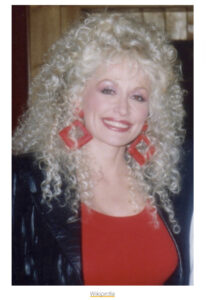 "I thought, 'Why am I going through all that? Why don't I just wear wigs? That way, I never have a bad hair day! I have a big hair day, but not a bad hair day."
Not only did her music hit the top of the charts around the world but her personality and style have also won her millions of fans over.
In her book "Songteller: My Life in Lyrics", Dolly says as a teenager she dreamed of being able to afford a hairpiece.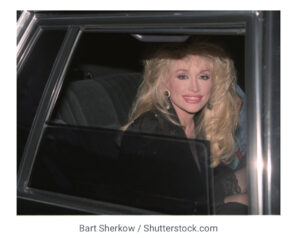 Little did she know just how successful she was going to become and now can buy as many hairpieces and wigs as she likes.
She writes: "I always wore my hair all teased up. Whenever that style started, I was the first to get my hair all poofy. Then as soon as I could buy those hairpieces and wigs, I wanted them."
She also talked about how her hair wouldn't do exactly what she wanted so the wigs took over.
"For one thing they were so handy," she added.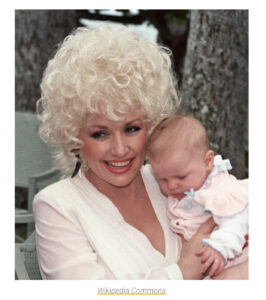 Dolly even has a stylist who brushes and maintains her wig creations.
When she released a throwback image of herself with her natural hair, her fans couldn't get enough of it.
In a black and white picture taken around 1965 after she signed to Monument Records, a young Dolly can be seen singing into the microphone with her blonde, mid-length hair swept back.
And she captioned it: "In case you're wondering, yes, that's my real hair."
Almost a quarter of million people reacted to the image showing Dolly as a 19-year-old.
But while Dolly is refreshingly honest and open about her life, career and appearance and we all love her for it, her marriage is very private, given she has a very private husband.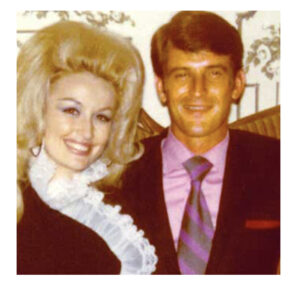 Inside Dolly Parton's Private Marriage to Carl Dean – Biography
One thing we do know is Carl Thomas Dean, who she's been married to for over 50 years, loves his wife's look.
The fourth child of 12 siblings, Dolly says that nobody sees her husband publicly, he's only seen her perform once, but admits he's very romantic.
Before they were married, Carl was enlisted in the National Guard and forced to leave Dolly behind in Nashville.
When she got the chance to visit him at the army base in Georgia she describes him hugging her so hard something happened to her wig.
"He squeezed, hugged and kissed me so hard that he knocked my wig off," she wrote in her book.
I think only her husband could get away with knocking her trademark hair off her head.
But her more than 50-year career has meant she has getting ready down to a fine art saying she can be ready in her make-up, costume and wig in under 15 minutes.
I could only believe this of the incredible Dolly Parton who is gorgeous both inside and out whatever she chooses to wear and with or without her wig.
Please share this with all the Dolly Parton fans you know and help bring a smile to their faces today.