It was meant to be the trip of a lifetime for Don and Margie Varnadoe, a cross-country vacation by train to celebrate their 50th wedding anniversary.
Don's boss said he had called the real estate office, in Georgia, where he had worked for decades, to say they were in Washington D.C. and it was turning into a "dream vacation."
"He had called the office and said how excited they were," Robert Kozlowski, managing broker at Coldwell Banker Access Realty in the port city of Brunswick, told AP News.
But just one day later the couple died when the Amtrak train they were traveling on derailed in a remote part of Montana.
Breaking News: "Well over" 50 people were injured and an unspecified number died in an Amtrak train derailment in Montana, an emergency official said. https://t.co/jevmtT5zS4

— The New York Times (@nytimes) September 26, 2021
The train was traveling from Chicago to the Pacific Northwest when it derailed near Joplin on Saturday afternoon, killing three people and hospitalizing five others, authorities said, as per CNN.
Don and Margie Varnadoe died in the incident along with 28-year-old Zachariah Schneider from Illinois, who was traveling with his wife Rebecca Schneider, who survived.
The 10-car train, carrying 141 passengers and 16 crew members, was traveling under the speed limit when it went off the track possibly ejecting passengers, U.S. investigators said Monday.
Wife of Illinois software engineer killed in Montana train derailment sues Amtrak as NTSB probe continues https://t.co/HL3lp8jO07

— The Washington Post (@washingtonpost) September 29, 2021
An investigation into the cause of the derailment is being carried out.
Don's boss of 18 years Kozlowski recalled how Don, his 74-year-old loyal worker of 18 years, had told him: "This is our trip of a lifetime and we're so looking forward to it."
Don had lived with his 72-year-old wife Margie, who was a retired teacher, on St. Simons Island, off the Georgia coast, for 45 years.
"He was so excited about that train trip," a local pastor tells me.

Don and Margie Varnadoe were two of three killed in an Amtrak train derailment in Montana Saturday. pic.twitter.com/iAcxKC8VkL

— Stephanie Bennett (@StephanieANJax) September 28, 2021
"If you want an example of how to treat people, Don and Margie were them," Kozlowski said. "With their faith and the way they treated people, they're in a good place, I think."
Rebecca Schneider, the wife of third victim Zachariah Schneider, has filed a lawsuit alleging the train operator had failed react to whatever caused the derailment, as per AP News.
"Sadly, what was supposed to be a joyous vacation turned tragic because of the failures of Amtrak and BNSF to fulfill their safety responsibilities," said her attorney, Jeffrey P. Goodman, in a news release.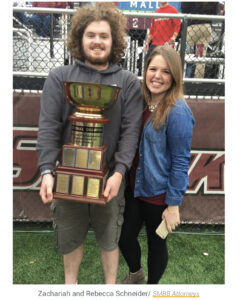 Zachariah and Rebecca Schneider/ SMBB Attorneys
A statement from Amtrak's CEO Bill Flynn said on Sunday: "We are in mourning today for the people who lost their lives due to the derailment of the Empire Builder train Saturday, near Joplin, Montana, on the BNSF Railway, as well as the many others who were injured. We have no words that can adequately express our sorrow for those who lost a loved one or who were hurt in this horrible event. They are in our thoughts and prayers.
"We are fully cooperating with the investigation, working closely with National Transportation Safety Board, the Federal Railroad Administration, local law enforcement and response agencies. We share the sense of urgency to understand why the accident happened; however, until the investigation is complete, we will not comment further on the accident itself. The NTSB will identify the cause or causes of this accident, and Amtrak commits to taking appropriate actions to prevent a similar accident in the future."
Amtrak said it was unable to comment on any pending litigation at this stage.
Don and Margie Varnadoe — 2 of the 3 people killed in an Amtrak train crash in Montana — were on a cross-country vacation to celebrate their 50th anniversary.

"If you want an example of how to treat people, Don and Margie were them," a friend said.https://t.co/BC7wAFnva4

— NPR (@NPR) September 29, 2021
Such a shocking incident which has caused unimaginable pain to those affected. My heart goes out to them. May those who lost their lives rest in peace.
I hope the correct steps are taken to ensure nothing like this happens again. Please share.