Kelci and Theron Jagge are parents who have just gone through the adoption process and are considering themselves lucky in more ways than one.
The couple, from San Antonio, Texas, began the adoption process in 2020 after they became Christians and decided to adopt a special needs child.
After connecting with a local adoption agency they looked at their options and found that there were a lot of children in need of a loving home in Ukraine.
"They have a lot of kids in Ukraine. I started following a lot of families [on social media] who had adopted these kids and to see the before and after is mind blowing," Kelci Jagge said, according to the New York Post.
The couple from San Antonio, who have two biological children, came across a picture of four-year-old Ruslan.
"I saw this little boy and I cried for a week looking at his picture," Kelci said.
When the couple first arrived at the orphanage in East Ukraine, staff tried to discourage them from adopting Ruslan. The youngster had cerebral palsy, required a feeding tube, and suffered severe withdrawal symptoms after being given opioids by the orphanage.
"He never cried. Later we realized it was because he was sedated," Kelci said.
But the couple had fallen in love with the little boy and was determined to adopt him.
"We just know he was abandoned at birth at the hospital. He spent some time in the hospital before going to an orphanage. His father was not identified. His mother died in late 2021," Kelci explained. "We just felt we had to do this."
Kelce and Theron saw how much Ruslan was suffering and how being in the orphanage was not helping him. He was also suffering from severe pneumonia and malnourishment, and they were eager to get him back to their home to help give him the medical attention he needed.
The couple returned to the United States to finalize their adoption, but while they were there the situation between Russia and Ukraine was becoming more unstable after Russian President Vladimir Putin had persistently threatened aggressive action against Ukraine.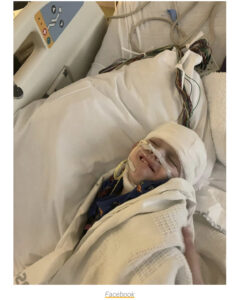 When the couple returned to Ukraine the country was on the brink of an attack from Russia and the area where their son was, Kramatorsk, in the country's Donetsk region, they described as a "scary area" which they were "eager to leave."
The couple was allowed to take their son from the orphanage on February 8, and three days later they picked up a visa for Ruslan at the U.S embassy in the capital of Kyiv right before it was closed on February 12.
But when the couple reached the airport ready to board a flight back home border guards wouldn't allow them to leave claiming the adoption papers were invalid, according to the New York Post.
'They did not care'
Ruslan's condition was deteriorating and it was vital they got him out as soon as possible but border guards were insisting on another 30-day wait period.
"I kept saying, 'Look at our son, he is going to die if you make us stay here 30 days,' and they did not care," Kelci recalled.
With an invasion from Russia imminent and Ruslan's condition getting worse, the couple did all they could to get their son out of the country including getting their lawyer to work with the border guards and sending pictures of their son to their doctors.
Thankfully, the hold was lifted by the border guards, and the Jagges could travel home to the United States. They made it home to San Antonio in the early hours of February 16.
On February 24, Putin launched a large-scale invasion of Ukraine.
"If we had been stuck there one day more, I don't know if he would have made it," Kelci said.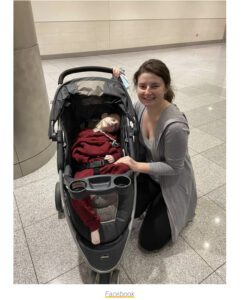 It's heartbreaking to see how disabled children are treated around the world. Thank God for people like the Jagges who can help these children get the love and support they need. Please share.