Soccer superstar Cristiano Ronaldo has announced the tragic news that his newborn son has died.
The Manchester United player, widely regarded as one of the greatest to ever play the game, shared an Instagram post on Monday, April 18, detailing the heartbreaking news.
"It is with our deepest sadness that we have to announce that our baby boy has passed away," the post, also signed by Ronaldo's fiancee, Georgina Rodriguez, read.
The statement continued: "It is the greatest pain that any parent can feel.
"Only the birth of our baby girl gives us the strength to live this moment with some hope and happiness.
"We would like to thank the doctors and nurses for all their expert care and support."
The couple finished: "Our baby boy, you are our angel. We will always love you."
Ronaldo and his partner first announced back in October that they were expecting twins. The 37-year-old wrote at the time: "Delighted to announce we are expecting twins. Our hearts are full of love – we can't wait to meet you."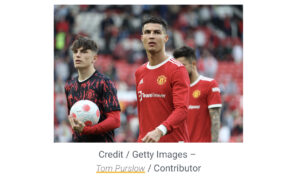 The Portuguese soccer star, who has previously played for the likes of Spanish giants Real Madrid and Italian side Juventus, has four other children, Cristiano Jr., twins Maria and Mateo, and Alana Martina.
Ronaldo and Rodriguez have been together for more than five years and were engaged to one another in September 2020.
Ronaldo's first son, Cristiano Jr., was born in 2010, though the soccer player has never revealed the identity of the child's mother. In 2017, twins Maria and Mateo arrived via a US surrogate, while Rodriguez delivered Ronaldo's fourth child, daughter Alana Martina, just a few months later.
Credit / Getty Images –
Daniele Venturelli / Contributor
Tributes have poured in from around the world for the couple after news broke concerning their baby son's death.
Manchester United tweeted their support for the grieving soccer star: "Your pain is our pain, @Cristiano Sending love and strength to you and the family at this time."
I can only imagine the mixture of emotions Cristiano Ronaldo and his partner Georgina are feeling right now.
The loss of a child is a truly incomparable blow. Please, share this article on Facebook if you would like to send thoughts and prayers where they're needed at this tragic time.