The least any of us want for our children is to know that they are safe, loved, and comfortable in their own skin.
Sadly, the world isn't a perfect place, and far too often can differences in a child's appearance or behavior pave the way for unkind comments and judgemental attitudes that have no place in modern society.
I myself can vividly recall times when my children would come home from school in floods of tears after being called names or picked on. It wasn't so much the fact that I became furious with the offending kids – although I'll admit I did – that bothered me the most, but rather that I feared my child would lose confidence and doubt themselves.
One father from Alberta, Canada, knows exactly what that's like.
As per reports, Derek Prue Jr. is an 8-year-old boy who was born with a huge birthmark covering a large section of his chest. Though not harmful to him in any way, the mark made his self-conscious and wary about what other kids would say.
Put simply, Derek didn't want to be different to everybody else, and the birthmark made him stand out.
Little did he know, however, that he had a father who was ready to go to great lengths to ensure that his son never needed to suffer from a lack of confidence again.
Opening up to CBC News, Derek revealed that his dad went out one day and got a giant the tattoo that perfectly matched his son's birthmark. What's more, he did it in secret, unveiling it to Derek Jr. one day as he was playing with his sisters in a hotel swimming pool.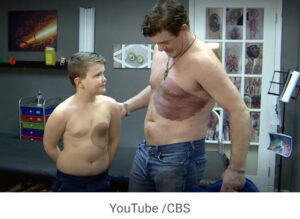 Needless to say, Derek was shocked, in the most delightful way possible.
The young boy said he fell back into the pool with a huge grin on his face.
"I was happy and I was a little confused," said Derek. "I didn't know he was going to do that."
As for Derek Sr., he knew his son had grown self-conscious.
"I knew he was self-conscious about it," Derek Sr. said. "I saw how he was reacting, and it made me want to do it so that he wouldn't be the only one."
After deciding to get the tattoo, Derek Sr. set about finding a tattoo artist who could pull the piece off. He ultimately settled on Tony Gibbert, who owns the Juicy Quill tattoo studio in Stony Plain, Alberta. Gibbert quickly agreed, and set to work making Derek Sr.'s wish come true.
All told, it took 30 hours for Gibbert to do his thing.
"He's been through the wringer sitting for that," Gibbert told CBC. "It's pretty painful.
The tattoo artist added: "I think it's amazing to be able to comfort your son like that," he said. "It's more than just your kid seeing your name, or something, you get to actually, like, really change the way he feels about himself.
"Just being able to go swimming with his dad and take off his shirt and be happy and comfortable. I'm happy I get to be part of it. In a small way I get to help with what he's trying to do."
Derek Sr. recalled of the tattooing experience: "I remember the first time coming in, laying down, and then after maybe three, four hours, I was like, 'Yeah, are we almost done?' And Tony's like, 'Yeah, we're almost done with the outline.'"
What an incredibly heartwarming story of a father's love for his son. I don't know about you, but I think Derek reveals all the praise in the world.
Please, share this article if you also believe that the world would be a better place if we simply embraced one another's differences.