David Cassidy, known for his role in the 1970s musical TV series The Patridge Family, was a father of two- Katie and Beau Cassidy. Katie was born in 1986 after he had a short-term relationship with model Sherry Williams. His son Beau was born in 1991 after his third marriage. However, he did part ways with Beau's mom Sue Shifrin, too. Though he had two kids, he only considered Beau to be his child.
Katie, meanwhile, was raised by her mother and stepdad, Richard Benedon. In the later years, there were no reports of any bad blood between Katie and David; in fact, they seemed to have shared a rather healthy relationship. In an interview with PEOPLE from 2009, Katie, when asked about how she felt about her dad, she said, "To be able to go to someone I'm genetically linked to, tell them anything and know that they're not going to judge me—it's unbelievable."
"Because I didn't raise her, I didn't have to parent her. I'm always here and totally nonjudgmental," said David. Katie then added, "It's nice when your dad can be your friend." It was also revealed that he gave his daughter career advice, too! He told her, "Do not work for money. Do not work for fame. Work for the work. And if you get a great role and they offer you nothing, take it." Katie assured that she'd taken the advice, too!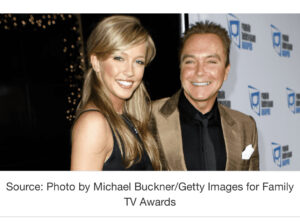 On November 21, 2017, David Cassidy died after he was hospitalized due to organ failure, as per TODAY. In February earlier that year, in what was probably one of his last few interviews, David told PEOPLE that he didn't share a bond with his only daughter. "I've never had a relationship with her," David said. "I wasn't her father. I was her biological father but I didn't raise her," he said. "She has a completely different life."
During the interview, he also revealed he was no longer in contact with Katie, but was proud of the woman she'd become. "I'm proud of her," adds David. "She's very talented. It's hard for me to even accept how old she is now."
In the same interview where he revealed he no longer spoke to his daughter, he couldn't help but gushing about his son, Beau. "He's just one of the best people you'll ever meet in your life and it's that that I'm proud of." He added, "He knows that I'm just a little off. Sometimes he cocks his head at me a little bit and goes, 'Dad do you remember?' and I say, 'No, I know I do, I remember.' He'll give me reminders once in a while. He just turned 26. He's such a beautiful person."
Even though it did seem for a while like the two of them were mending their relationship, after David revealed in 2015 that he had Dementia, his relationship with Katie was reportedly strained. However, despite all the bad blood between the father and daughter, Katie was right by his side in his last moments.
The Gossip Girl actress later took to Twitter to express her devastation and revealed the last words spoken by the actor. Katie penned, "Words can't express the solace our family's received from all the love & support during this trying time. My father's last words were 'So much wasted time.' This will be a daily reminder for me to share my gratitude with those I love as to never waste another minute….thank you."
Later, The Blast revealed that David didn't leave anything for his daughter after his death, out of his $150,000 in assets. It is clearly stated in the will that even though he has two kids, "all references in this Trust to my 'child or children' are to Beau Devin Cassidy and such references shall not include Katie Evelyn Cassidy…It is my specific intent not to provide any benefits hereunder to Katherine Evelyn Cassidy and/or any descendant of Katherine Evelyn Cassidy."
No one knows what caused them to drift apart, but for Katie, her father's death came with a "silver lining." Five months after David Cassidy passed away, Katie told PEOPLE, "Obviously, it's been a tough year, that's a given. But if anything, I have to say, I always try and look for some sort of silver lining in situations like that — and I guess it's nice that it really brought my family together." Her last tweet about her late father was at the time of his death. It's been years and she hasn't spoken about him since.
Cover Images Source: Getty Images | Photos by (L) Frazer Harrison and (R) Gustavo Caballero