Losing a loved one is a devastating experience. But losing two children in your family at the same time is a heartbreak no one should have to go through.
This family went through the most heartbreaking episode and is now requesting your prayers…
35-year-old mother of three Debbie Amaya was taking her daughter, 16-year-old daughter Jade, and two sons, 13-year-old Chris and 2-year-old Damian to see their grandmother.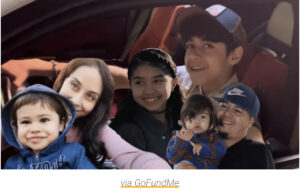 The family had barely started out on their journey when the unexpected happened. A speeding vehicle ran a red light and caused a devastating accident.
The careless driver drove straight into Debbie's SUV and the impact was so massive that it pushed the vehicle more than 100 feet, knocking it into a fence and a parked car. Everyone inside of the SUV was left serious injured.
The driver who caused the accident hit several other parked cars before his own vehicle, 'burst into flames.' He then proceeded to jump out of the flaming vehicle.
A bystander later recounted that the driver jumped out and said to her, "He's like, 'I killed them kids? I killed them?' and I said 'Yes'."
In Debbie's SUV however, things were dire. Jade sustained minimal injuries, and Debbie was also released following some surgeries. Her two sons however were not as lucky. Both of them did not survive the accident.
13-year-old Chris Amaya-Pineda died almost immediately after the accident while Two-year-old Damian Amaya-Pineda tried to hold on and survived for a week after the accident.
The family was numb from the shock and pain the deaths brought. A heartbroken Debbie said, "A mom should never bury her children. And it hurts me so bad that I didn't just lose just one. I lost two of my sons."
The father, Mario Pineda was the only member of the young family who was not in the vehicle when the accident occurred. He was at work at the time.
The family is still grappling with the trauma that comes with suddenly and violently losing two members. 16-year-old Jade has survivor's guilt after the accident.
"She even told me she felt bad because she made it alive," her mother, Debbie, said. "I told her not to feel like that … She misses her brothers."
While Debbie deals with her own guilt of feeling responsible for the accident even though it was no fault of her own. "I didn't see it coming," she said while weeping. "I didn't see it coming."
Family and friends of the Pineda family banded together to help the family through this difficult time. They started a fundraiser to help raise funds to cover the cost of the funerals, medical expenses, and more for the family as they grieved. The fundraiser ended up raising over $85,000 in a little over a week. The family was thankful even as the grieved their loss.
"The Amaya and Pineda family want you all to know how much they cherish and appreciate all of your prayers, love, and support," Debbie's sister relayed.
While the family is devastated and will take time to heal from this tragedy, all we can do is offer our condolences and hope that they will be able to heal.
Please join us in sending the Pineda family your thoughts and prayers. Share this piece so others can do the same as well.