A father was stabbed to death on a Starbucks patio after reportedly asking the alleged killer to stop vaping around his young daughter.
Paul Stanley Schmidt, 37, was visiting a Starbucks coffee shop in Vancouver with his fiance and three-year-old daughter when he allegedly became concerned about his daughter inhaling fumes from a man who was vaping nearby.
As per the Vancouver Sun, when he allegedly asked 32-year-old Inderdeep Singh Gosal to stop, the suspect is claimed to have pulled out a knife and fatally stabbed the father at around 5:40 PM on March 26.
Police stated the brief altercation that occurred between the two men who did not appear to know each other ended after Schmidt had been fatally wounded, per PEOPLE.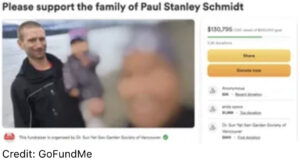 Kathy Schmidt, the victim's mother, told the Vancouver Sun: "This is so horribly wrong what happened. He was just trying to protect his daughter. I'm angry and I'm sad."
The suspect has reportedly been charged with second-degree murder but Kathy would like this upped to first-degree, but this would require proof that the killing was a premeditated attack.
"He had a knife," Kathy said. "I don't carry a knife into a coffee shop, do you?"
Ashley Umali, Schmidt's fiance, was inside the coffee shop at the time of the attack as the 37-year-old remained outside with their daughter in a stroller.
"It all started because he was vaping beside the baby. Ashley's in shock, she watched the whole thing. She's so devastated," Kathy went on.
Schmidt worked as a mover at Jiffy Move, and operations manager Sean Collings described him as "a great guy and a hard worker," adding that "he was a devoted husband and father."
Jessica Foxx Foto, who stated that she is Schmidt's step-sister, took to social media where she expressed her heartbreak as well as urged others not to watch footage of the aftermath of the attack that has been circulating online.
"This might not be a coherent post because I am angry, heartbroken, grieving, and confused but looking for answers," Foto began.
"The Victim was my brother. Someone took my brother's life yesterday and another person filmed it (do NOT watch) instead of calling the police and worse off posted it on social media very clearly for views(i will not say their name but i've seen their account & if they see this, please speak to the police and remove your video from social media it's unbelievably traumatizing)."
Foto went on: "I am sick about this. My family is sick about this. I wrote this post many times being very angry & swearing but that won't help anything."
She has urged anybody with evidence to come forward and turn it over to the police. A GoFundMe page has been created with the money going to help Schmidt's family, as he was reportedly the sole earner of the family.
Our thoughts are with Schmidt's loved ones at this time.