One moment a family of four were enjoying a holiday at a popular ski resort, and the next two members found themselves fighting for their lives.
Dave Miln and his wife Clare were on a ski trip with their two young daughters in mid-December when disaster struck.
The couple was taking their 3- and 1-year-old daughters to their ski lessons when a motorized snow blower collided with them. Dave, a Australian Defence Force veteran, threw his body on top of his daughters to prevent them from being sucked into the machine. While their youngest escaped without injury, Dave and the couple's oldest suffered severe injuries.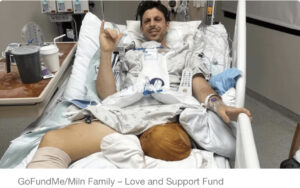 According to a GoFundMe, Dave and Isla entered the machine. It took rescuers an hour to pull Dave free.
He was conscious the entire time.
After he was transported to the hospital it was determined his injuries were too severe and his legs would have to be amputated.
Not only has Dave become a double amputee, but the accident left him with several broken bones. He has since had 10 surgeries.
As he recovers, his daughter Isla has also been recovering.
She suffered breaks in both of her legs and pelvis and required three different surgeries. She may even need more in the future.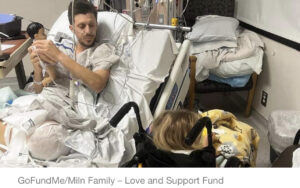 Dave was medically transferred to his native Australia where he continues to recover. Meanwhile his wife and two daughters are back in Sydney where they all continue to recover from the major accident.
"Isla is still in her wheelchair but appears to be slowly getting back to her old self smiling more and asserting herself a little more. She is such a strong and brave girl," Tsen Bogan, a family friend and the GoFundMe organizer, said.
So far the GoFundMe has raised more than $70,000 AUD. The family plans to use the funds to make the necessary modifications to make life easier for Dave and Isla.
It's frightening how life can change in an instant. Let's all pray for the Miln family.
Please share and pray for their recovery.