George Strait has enjoyed a brilliant career, one spanning decades and including all sorts of memorable hits.
That said, his tale of riches and success hardly compares to the love story shared between him and his wife, Norma Strait.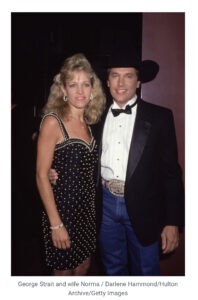 Some might not know, but the pair have known each other almost their entire lives. Norma was his high school sweetheart in Pearsall, Texas.
Today, the couple can look back on a solid marriage – it's pretty unusual in Hollywood to see an enduring love like that of George Strait and his wife, Norma. Strait has always said that Norma was the first girl he ever loved.
But their whirlwind romance could have been very different. After their first date, they didn't stay in touch.
"We knew each other forever, growing up in a small town. I never really even thought anything about her, but then one day I asked her out and we went on a date. We didn't see each other for a long time after that.
"Then one day, I thought, 'I'm missing the boat here,' and we started dating again," the country legend told the radio station Bull 100.3.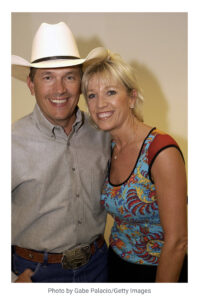 They married in a small affair in Mexico back in 1971 and had a formal church wedding in Pearsall afterward.
When George's music career propelled him to stardom, Norma remained his cornerstone through it all.
George and Norma had two children together, Jennifer and George Strait Jr., known as "Bubba". Jennifer died in a car accident when she was just 13 years old. Following the tragedy, the family set up the Jenifer Lynn Strait Foundation, which supports children's charities.
The death of a child can bring you together or break you – in this case, it only made George and Norma's relationship stronger.
George Strait with his wife Norma and Grandson Harvey pic.twitter.com/SYUEKT8GW9

— A George Strait Fan (@naturalgeorge) March 16, 2015
On the pair's 41st wedding anniversary, back in December 2012, George took the opportunity to tell PEOPLE just how important their relationship had been.
"It will be 41 years this December. Norma and I are so blessed that we found each other 41 years ago and were able to do all of this together, experience this life together, to support each other through everything, good times and bad," George told PEOPLE.
"We do almost everything together. She stayed home until Bubba got out of high school and went to college, but since then she's come on the road with me too. We love each other and we still like each other. A lot!"
Seven years on, Norma joined in the fun alongside George for her debut music video "Codigo", which came out in 2019.
George and Norma have weathered some storms but they came out shining!
In December 2021, George took the opportunity to pay tribute to his wife during a concert in Vegas. The show took place on the same day as their 50th wedding anniversary, and George did not miss that opportunity.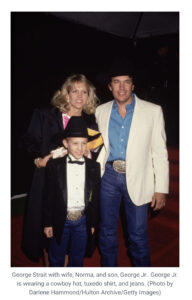 Norma sat in the audience when her husband stopped the concert and dedicated the romantic song 'I Cross My Heart' to Norma and said:
"So I was 19 years old and I knew this girl, Norma. She was 17, really hot. We went to Mexico and eloped – 50 years ago today."
"I cross my heart and promise to/ Give all I've got to give to make all your dreams come true/ In all the world you'll never find/ A love as true as mine,"
George and Norma are proof that true love does exist, and we're so happy to see the smiling couple are still going strong. It's hard to believe either are old enough to be married 50 years, both look absolutely amazing.
Share this article if you're a fan of George Strait, or simply a fan of endearing love.