The last time Maria Clark was in the presence her 25-year-old son was nearly two years ago, but when she met 14-year-old Jean Paul Marceaux she could feel her son was right there with her.
Jean Paul received Nick's heart after the 25-year-old died in a car crash in September 2020.
Recently, Maria got to meet Jean Paul and hear her son's heartbeat.
"He came in and he just hugged me. He had a strong hug, just like Nick did," she said. "And then to hear the heartbeat, it was so strong and so full of life."
Maria remembers when Nick got his driver's license he told his mother he wanted to become an organ donor.
"Because I know when Nick came to me at 18 when he got his (driver's) license, he was doing a little dance and he told me if anything were to happen to him, to spread him like the stars."
And that's exactly what Maria of Madisonville, Louisiana did when tragedy struck in September 2020.
"He was always a people person, helping everybody, going out of his way to make sure you knew you were special," she said.
So it only made sense that his organs were donated to people in need. While they were spread across the country, one recipient was located about three hours away from Nick's family in New Iberia, Louisiana.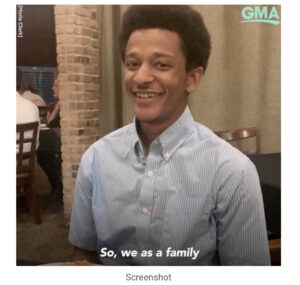 That recipient was a young boy named Jean Paul.
When he was two years old he contracted a virus and developed cardiomyopathy, which resulted in him needing a heart transplant.
"When he got the first transplant, we knew the probability of him having to get a second one was highly likely," his mom Candace Armstrong said. "He ended up in the hospital in June 2020."
For months Jean Paul fought for his life until one day in September 2020, they received a call that a heart had been found.
Candace said the call released a "flood of emotions."
"It's such a dichotomy because you are hoping for it because it's going to sustain your son's life, but you know what this is attached to."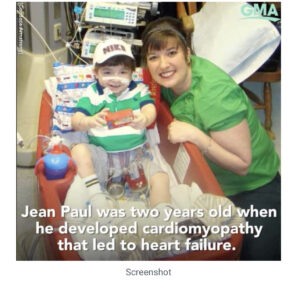 At the time Maria was unsure who received her son's heart or other organs, but as soon as she found out she reached out to the families.
"I wanted to know where his organs are. I want to know that they're okay, that they're doing fine and moving on with their lives and their health."
She also wanted to let them all know more about Nick and the life he lived.
Upon receiving the letter Maria and Candace connected on Facebook, and the two mothers began communicating with each other. They planned to meetup, but due to the pandemic and Jean Paul's health they had to postpone.
But on May 14 the families finally got to meet.
Jean Paul and his mother arrived with a stethoscope so Maria could listen to her son's heart inside Jean Paul's chest.
"It came through the stethoscope so strong, just beating like a drum," she said. "I was so connected to him because he was so much like Nick."
The two families have since formed a close bond with each other and consider one another a part of the family.
"We talk about him, Nick, like he's part of his family, and he is. It's not donor anymore, it's Nick," Candace said.
And while the Armstrongs are forever grateful, Candace said she can't help but think of the pain Maria went through in order to give Jean Paul the gift of life.
"Of course, the conflicting realities of that day will never leave me," she said. "And just knowing that, through their greatest pain, they decided to still give."
Being an organ donor is such a selfless thing to do. Are you an organ donor?
Please share this story on Facebook.