One of the biggest stars of the past century is celebrating a milestone birthday: Barbra Streisand, the iconic actress, singer and filmmaker, is now 80, and still going strong after six decades in the business.
In honor of her 80th birthday, take a look back on her incredible, record-breaking career, and find out her surprising plans for her big day.
Early life
Streisand was born on April 24, 1942, in Williamsburg, Brooklyn. Her father died when she was just 15 months old, and, according to Biography, she had a difficult childhood, with the family being near poverty.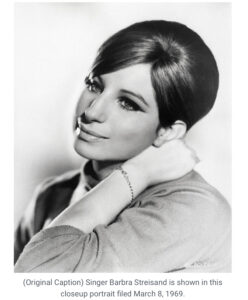 Streisand was also shy and had an abusive stepfather, and her mother doubted her showbiz dreams because of the way she looked.
But of course, she proved everyone wrong. She studied acting in New York and worked as a cabaret singer, and her now-iconic voice quickly helped her rise to stardom.
First success and Funny Girl
She made her Broadway debut in the musical I Can Get it For You Wholesale, receiving a Tony nomination, and won her first Grammy for Album of the Year for The Barbra Streisand Album, becoming the youngest artist to ever win the award.
But it was her role in Funny Girl, a 1964 musical in which Streisand played the comedian Fanny Brice, that really made her a star. She earned another Tony nomination, and introduced now-classic songs like "People" and "Don't Rain on My Parade," which have become signature songs for Streisand.
She reprised the role for the 1968 film version, winning the Academy Award for Best Actress in a Leading Role, tying with Katharine Hepburn.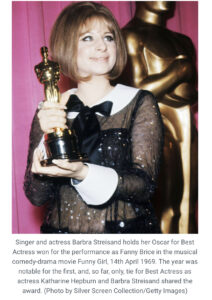 Hit films and singles
This led to the beginning of a very successful film career. Her next two films were Hello, Dolly! and On a Clear Day You Can See Forever, but she soon expanded to comedies like The Owl and the Pussycat and What's Up, Doc?
Two of her biggest hits in the '70s were the dramas The Way We Were, opposite Robert Redford, which earned her another Oscar nomination for Best Actress, and the first remake of A Star is Born, with Kris Kristofferson.
Both films spawned hit songs sung by Streisand: the theme song "The Way We Were," and "Evergreen" from A Star is Born, for which she won her second Oscar, this time as a songwriter. Both songs were #1 hits.
In addition to her film success, Streisand had massive success as a recording artist, and is one of the best-selling recording artists of all time. According to the RIAA, she is the second-best-selling female artist of all time, behind Mariah Carey.
Her other #1 singles include "You Don't Bring Me Flowers," with Neil Diamond, and "No More Tears (Enough Is Enough)" with Donna Summer.
Success as a director
Off her huge success as a film actor, Streisand ventured into directing her own films.
Streisand broke barriers as a female filmmaker, which is still a rarity in Hollywood. Her 1983 film Yentl marked the first time a woman had written, produced, directed and starred in a major film. She won the Golden Globe Award for Best Director, the first woman to win the award, and the only one for 37 years.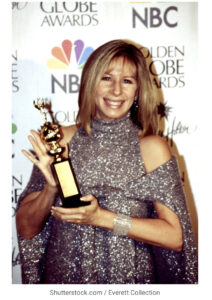 Her other films as a director include The Prince of Tides and The Mirror Has Two Faces. Prince of Tides received seven Academy Award nominations, but Streisand was not nominated for Best Director, an omission considered to be a snub: Billy Crystal joked at that year's ceremony that the film "directed itself."
Later career
After decades of success, Streisand has used her fame to champion causes close to her heart. For nearly 30 years, she avoided doing concerts due to stage fright, but returned for a 1994 tour that raised over $10 million for charities, and has continued to raise money through The Streisand Foundation.
She has been married to actor James Brolin since 1998. Previous relationships include her marriage to Elliott Gould and a relationship with producer Jon Peters.
Streisand has continued to tour and record albums. Her most recent tour, Barbra: The Music, The Mem'ries, The Magic, ran from 2016-2017. Recent albums include 2014's Partners, an album of duets with contemporary male artists, and Encore: Movie Partners Sing Broadway. She is the only artist in history to have #1 albums in six different decades.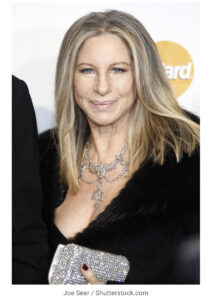 While she doesn't do as many movies as she used to, she made comebacks with comedies like Meet the Fockers and The Guilt Trip.
80th birthday
Streisand is celebrating her milestone 80th birthday on April 24. She is also celebrating 60 years in show business: last month marked 60 years since she made her Broadway debut.
In honor of her birthday, singers and Broadway stars Kristin Chenoweth and Josh Groban praised Streisand on the Today Show.
"She, to me, is ageless. So I'm not even going to acknowledge her age," Chenoweth said, calling her a "rule-breaker" and "trailblazer." She also recalled being more nervous to sing in front of Streisand than she was for the Queen.
Similarly Groban said he was nervous while recording a duet with the perfectionist star, but praised her commitment to her craft: "She's just the greatest," Groban said.
Today also got a quote from Barbra about her birthday plans. Even though the star is celebrating a milestone birthday, she's still keeping things low-key this year, spending some sweet time with family and friends.
"It's still too dangerous to have a big birthday party, so I've decided to have a small afternoon tea with some of my family and close friends, because my two gorgeous granddaughters love tea parties and they can wear their pretty dresses!"
In addition, her birthday on Sunday marks the opening night of the Broadway revival of Funny Girl, the first new production since Streisand lead the cast. Her role is played by Lady Bird star Beanie Feldstein.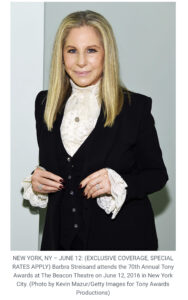 Of all the actors and singers in show business, few can say they had the success or the longevity of Barbra Streisand, who is truly one of the biggest stars of all time.
Happy birthday to Barbra Streisand! Share this story with your favorite memories of this iconic star.