After being furloughed during the lockdown, the young man escaped into the world of gaming. "Hours fly by when absorbed by the screen," said the bereaved father.
"No parent should outlive their child, it's so very wrong," said Stanley Greening, a heartbroken father who lost his son to a medical condition that could have been avoided.
After the death of his 24-year-old child, the grieving father couldn't standby without warning other parents and youngsters about how his son, Louis O'Neill, died from playing video games.
The father revealed how the pandemic and its effects left his son in a rut that eventually took his life. "My son, my dear boy, Louis, has gone. Not from the evil virus but because of it," Stanley wrote on Facebook last year. "His young life, barely begun, still trying to find his feet, just torn away. The devastation… after seeing my dear boy go like that, I am in a living hell."
Stanley spoke about how Louis was furloughed during the lockdown, and this eventually sent him into a spiral of inactivity and too many hours spent in front of a screen.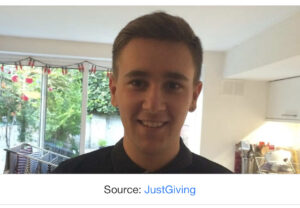 "After being furloughed he took to his gaming world to escape," the father went on to say. "Caught up in a virtual world he became less active, so easily done. Hours fly by when absorbed by the screen, I've done it countless times myself. But no one, and I mean no one, ever in a million years would have predicted a blood clot. And just like that, it ripped my son away and I died inside along with him."
Although Louis was generally healthy and used to work as a soccer coach at Center Parcs in Hertfordshire, UK, he developed a blood cot, which can occur after long periods of inactivity, according to New York Post. Louis eventually died of deep-vein thrombosis, a life-threatening medical condition that Stanley believes could have been prevented if his son simply moved around a little more.
Roughly two weeks before Louis passed away, he complained about experiencing some pain in his leg. However, he was told it might have been caused by food poisioning when he got in touch with emergency responders.
In June, Louis passed away, and doctors believe it was because of DVT, caused by long hours of inactivity and restricted blood flow, as reported by CafeMom.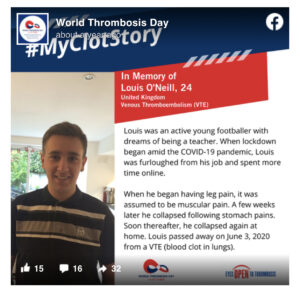 As Stanley tries to spread awareness about the medical condition, he wrote in his post, "Who is warning youngsters? Who is warning anyone, of any age? No one!! So I am. My son will live on, I shall continue to spread this warning in his name. This terrible thing was preventable had he or we known such risks. It is very rare in such circumstances but speaking to medical professionals I discover there has been a number of cases in youngsters during this lockdown. Like many I associate it with older people and something we are warned about on planes!"
"As more and more of us are working from home it is likely you are not getting out your chair as much as you need," the father continued. "Stand up, walk around, and please, warn your kids. If I can prevent one loss in my son's name then that's one bright light that will shine on LOUIS. So STAND UP, for Louis."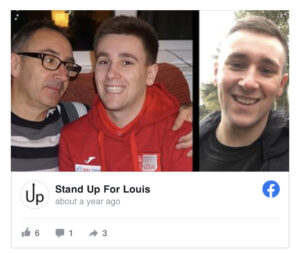 The bereaved family has created the StandUpForLouis campaign to spread awareness about "how blood clots can kill young, fit, healthy people." A JustGiving fundraiser has also been set up for the cause of informing and educating people about the risks of thrombosis.
Cover image source: Stand Up For Louis/Facebook