As parents, we always endeavor to do our utmost as it pertains to preparing our children to face the world and its various dangers.
Of course, we can never truly protect them from everything that's out there, but as a mother or father, it falls on us to give them the skills necessary to limit risks as much as possible.
Usually, this includes things like teaching them not to talk to strangers, teaching them not to climb too high in trees or cross roads without looking both ways.
For mom Stephanie Swedberg, it was important to her that her children learned to swim at an early age. She usually attends church every Sunday, but on one particular weekend she decided to watch the service online so that she would have the time to train her 3-year-old twin boys in the basics of swimming.
As fate would have it, Stephanie's decision would indeed save a life. Just not at all in the way she had expected.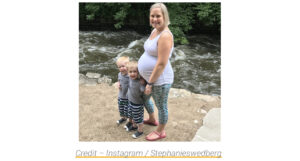 It's safe to say Stephanie Swedberg knows a thing or two about water safety. The mom spent five summers working as a lifeguard and so it was a natural thing for her to want to properly pass on her knowledge to her twin boys.
Yet she could never have anticipated what would unfold one Sunday in 2019 when she skipped her usual church service to take her 3-year-olds to Crystal Beach Park in Burnsville, Minnesota.
Stephanie was busy teaching her children how to float on the water's surface when she noticed another group of boys nearby splashing around in the deeper area of the lake.
That in itself wasn't necessarily a problem, but when another mom ran to the water's edge screaming, Stephanie knew something had gone wrong.
It turned out that the woman's son was kicking and struggling, on the verge of going under. Without wasting a moment, Stephanie handed her twins to her sister and swam into the deeper water with all haste.
Oh, and did we mention that the mom was 33 weeks pregnant at the time? …
"I didn't really realize anything was off until I saw one of the moms fully dressed, sprinting into the water and screaming for somebody to help her son," Stephanie said, as per Fox9.
"Then I looked over and I saw one of the boys unable to keep his head above the water."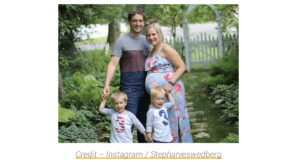 She added: "He wasn't screaming…he was just thrashing around, bobbing a little bit."
Fortunately, Stephanie was able to reach the boy in time and perform a rescue that her lifeguard days had prepared her for. As per the mom herself, it was the first time she's ever been called upon to save someone in trouble.
"I encouraged him to keep taking swimming lessons and maybe become a lifeguard," she said.
Indeed, teaching your children to swim at an early age is to give them an invaluable skill, especially if you know they're going to be in and around water growing up.
Wow! Thank God Stephanie elected to go to the lake that day instead of church. Who knows what might have played out otherwise.
Stephanie, we think you're a true hero, and certainly a positive role model for your children.
Please share this article on Facebook if you agree with us!