Graduation is a big moment in every young person's life; it's a time for celebration and a chance for parents and grandparents to let their children and grandchildren know just how proud they are of them.
When Sasha Mulungunhaway Yambulul graduated from Worawa College in 2015, it was a big deal and a huge achievement. The college, founded in 1983 and located in Healesville, northeast of Melbourne, specializes in educating young Indigenous people in Australia.
The students often come from disadvantaged backgrounds, and in the case of Sasha, she grew up in a remote Indigenous clan, on Elcho Island outside Australia's northern coast.
It goes without saying that it was a huge change for Sasha to come to a college and a completely new environment. But her classmates were very friendly, and Sasha studied hard to reach her goals. Thanks to her work ethic and discipline, she received top grades when it was time to graduate. She informed her family at Echo Island, and they were, of course, thrilled.
The happiest of them all? Sasha's grandfather, Gali Yalkarriwuy Gurruwiwi.
He is an elder of the indigenous clan called the Galpu clan and rarely leaves his home but when he heard that his granddaughter was graduating from her college in Melbourne he had to make the journey to celebrate.
Gali Yalkarriwuy Gurruwiwi doesn't speak English, or could tell you his age – but he loves to dance.
He made the nearly 2,000-mile journey to Worawa Aboriginal College, where his granddaughter Sasha Mulungunhaway Yambulul had been boarding, so he could celebrate her achievement through a traditional dance called a Lunggurrma.
Sasha has been studying at the college in Healsville, north-east of Melbourne for over two years along with another of Gali's granddaughters.
Gali made the long journey to celebrate Sasha's Year 10 graduation with a traditional dance.
Gali said through his wife who translated for him "I am proud of my grandchildren Sasha and Alica, I am proud that this college has taken care of them and they got a good education."
But he added "They need to know who they are and where they come from and now Sasha walks proudly in both worlds."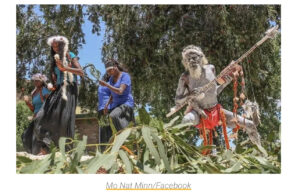 When Sasha and Alica aren't in college they all live with their family on Elcho island and the two girls had never been away from home before.
"I love hunting, looking for oysters and fishing and looking for mango worms and dancing traditional, we call it bunggul, that's what I miss, telling stories around the campfire", Sasha said.
Sasha now plans to continue her studies at a different college in Western Australia and become a nurse.
Such a beautiful celebration with her grandfather, what a wonderful bond these two share.
Sasha is clearly an ambitious young lady while also respecting and cherishing the culture she comes from; we wish her all the success in the future.
Please share.