As we are bombarded with stories about the latest Hollywood couple's relationship to hit the rocks, it's always so refreshing to hear about a couple who have stood the test of time.
Take screen legend Jeff Bridges, 72, as an example.
The actor is a rarity in Hollywood. He has always been faithful to his wife Susan, who he married back in 1977.
And after 45 years together, Jeff Bridges says his marriage just keeps getting better.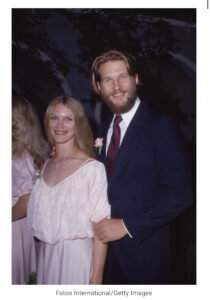 For decades, Bridges has been one of Hollywood's most enduring and acclaimed movie stars. He had his breakthrough in the 1970s, earning Oscar nominations for his roles in the classic film The Last Picture Show and opposite Clint Eastwood in Thunderbolt and Lightfoot.
He continued to have success in blockbusters like King Kong and Tron and acclaimed roles in films like Starman and The Fisher King. But his most iconic role came in 1998, playing "The Dude" in the cult favorite The Big Lebowski, which has inspired fan conventions and its own philosophy (and countless orders of White Russians at bars.)
The seasoned star met his wife, Susan Geston, in 1975 while shooting the western comedy film Rancho Deluxe. Susan worked as a waitress on a ranch in Chico Hot Spring, where the film crew shot a hot bath scene.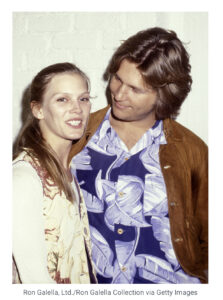 "We were shooting a scene in the hot tub at a place called Chico Hot Springs when I saw this girl. I couldn't take my eyes off her. Not only was she gorgeous, but she had two black eyes and a recently broken nose (from a car accident, I later learned). Something about her beauty and disfigurement kept me riveted," Jeff Bridges wrote in 2014.
But it would take time for Jeff to win Susan's heart. Once after work, Jeff asked the beautiful waitress out – but she said no.
He asked again a few days later but got the same answer. Finally, however, Susan gave him hope by saying, "it's a small town; maybe we'll run into each other later…"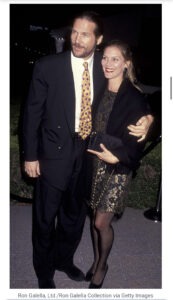 After a while, they finally met on a night away from work.
The two hit it off after a night of dancing, and it wasn't long before the waitress packed up her bags to follow Bridges back to California.
The two dated for a while, and while Geston wanted to get married, Bridges had his reservations about making such a commitment.
In 1977, Geston told Bridges that if he wasn't going to marry her, she was going to go her own way. Bridges knew he would forever regret the choice to let his love walk away.
"I said, 'Oh God, I can't let this woman go,'" Jeff told OWN. "I had this vision of an old guy thinking there was this girl from Montana, man, why didn't I marry her."
So he proposed, and the couple wed days later.
Fast forward 45 years, and Bridges and Geston are still very much in love.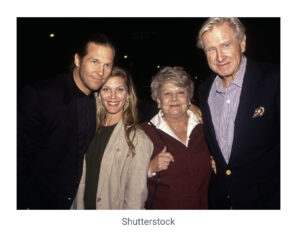 The two have learned plenty about communication and staying together through tough times. They have three grown daughters and one grandchild.
Their oldest daughter, Isabelle, was born in 1981. Haley and Jessica, the other girls, were born in 1985 and 1983.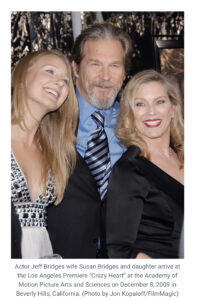 Bridges have said that he still looks at his wife with the same adoration he felt when he first saw her waiting on tables.
"What you don't know until you get married is that you think all the other doors close — which is true," Bridges explained.
"But this doorway you open [with marriage] is a hallway lined with all these other brilliant doors — kids, deeper intimacy, adventures, and everything else."
Of course, no relationship is without conflict. But Bridges and his wife never ran when they hit a bump in the road; they have learned how to face those bumps together, which means communicating frequently, openly, and honestly.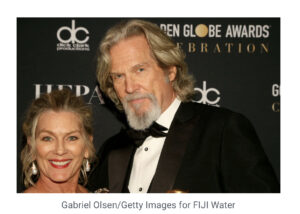 "If you change your partners every time it gets tough or you get a little dissatisfied, then you don't get the richness that's available in a long-term relationship," Bridges expressed and said:
"We are quite different as people, and we celebrate that rather than making it drive us apart. I respect her wisdom, and I'm sure the girls do too. I've really been blessed."
After 45 years, Bridges feels his marriage just keeps getting better. "What they don't tell you about marriage is that it just keeps getting better on all levels…" he said.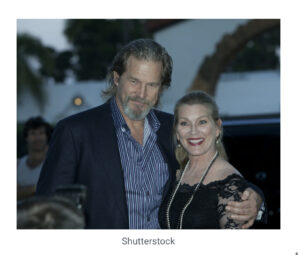 This story restored my faith in love and long-lasting relationships.
Feel free to brighten your friends and family's day with this heartwarming story on the ultimate Hollywood romance!