The Uvalde school shooting has been one of the deadliest events in America's recent history. The shooting in its wake left a lot of grief. And that grief managed to take another life.
Joe Garcia died two days after his wife Irma was shot in Uvalde from a heart attack, which his family believes was a direct result of the overwhelming sadness he faced at the news of his wife's death.
Joe Garcia had been married to Irma Garcia for 24 years. They were due to celebrate their 25th anniversary this June. Sadly, Irma's life was taken in the Uvalde school shooting. She was one of the two teachers who were victims of the tragedy.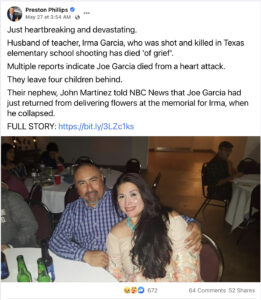 Two days after finding out that his wife had been fatally shot, Joe Garcia died of a heart attack. His family believes the heart attack was onset by the terrible grief Joe had been victim to since he heard of his wife's death.
Joe Garcia was a registered organ donor and his family honored his wishes. Joe's corneas were harvested after his passing to help those who were in need of them.
Sam Nichols from the San Antonio Eye Bank appreciated Joe's decision and donation. He said, "Two individuals will be able to see again, will be able to go back to their families, live that full life, and a part of Joe will live on through them."
The patients who received the donations received their transplants on Tuesday and Thursday.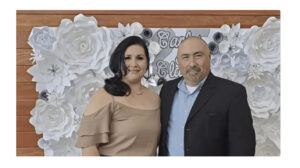 Dr. Kenneth Maverick who performed the second of the two surgeries said the procedure went successfully. He said it was an outpatient procedure.
"We basically transplant someone who's passed on their cornea to somebody who needs a new cornea because their cornea is not clear," the surgeon said. He added that the procedure does not take more than 30 to 40 minutes.
The doctor mentioned that globally there are over 12 million people who suffer from cornea blindness. He hopes Joe's story helps inspire others to do the same.
"This is just a ray of light in a very dark time, but the human spirit lives on and the ultimate sacrifice is organ donation," Dr. Maverick said.
The couple left behind four children. The community has banded together to help support the children and even raised millions of dollars to help them out.
Even in his death, Joe Garcia made sure he contributed positively to society by helping those in need.
Please share this story about Joe's good deed to help inspire others as well!