Kirstie Alley was a beloved actress that lit up many television screens throughout her life. Her children announced her death on Monday, devastating millions of her fans as well as her contemporaries in Hollywood.
To celebrate her life and commemorate her passing, some of the co-stars she had during her Hollywood career paid tribute to the late actress by writing a few words.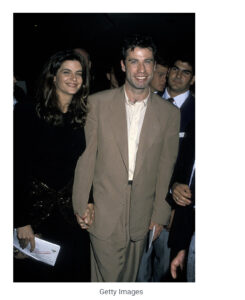 Kirstie Alley's children True and Lillie Parker announced their mother's death on her social media accounts. They wrote a brief message, accompanying the heartbreaking news of her death. The message read, "We are sad to inform you that our incredible, fierce and loving mother has passed away after a battle with cancer, only recently discovered. She was surrounded by her closest family and fought with great strength, leaving us with a certainty of her never-ending joy of living and whatever adventures lie ahead."
After the news broke, those who had known Kirstie Alley personally in her life took to social media to pay their tributes to the late actress.
John Travolta who notably starred alongside Alley in the 1989 rom-com "Look Who's Talking," posted a picture of the two of them together along with a caption, "Kirstie was one of the most special relationships I've ever had. I love you Kirstie. I know we will see each other again."
Her co-star in Ryan Murphy's series "Scream Queens," Jamie Lee Curtis also paid tribute to the actress. She talked of their relationship, writing that they "agreed to disagree about some things," but that the two "had a mutual respect and connection." She was perhaps referring to Alley's very vocal support of Donald Trump during, which started during his Presidential Campaigning in 2016.
"She was a great comic foil in @tvscreamqueens and a beautiful mama bear in her very real life," Curtis further added. "She helped me buy onesies for my family that year for Christmas."
Kelsey Grammer who starred with her in Cheers also made a comment saying, "I always believed grief for a public figure is a private matter, but I will say I loved her."
Kirstie Alley will surely be missed. We are sending condolences to everyone who is mourning her death, especially to her friends and family.
Share this with others so they can see how Kirstie Alley is being honored and reme