Beloved actress Kirstie Alley has passed away aged 71. On her Instagram page, her family shared the sad news that Alley had lost her fight with cancer.
Alley became a star through her appearance on the sitcom Cheers, and throughout her career, the two-time Emmy-winning actress starred in many successful films, as well as becoming a fan favorite on Dancing With The Stars.
Her family released a lengthy statement on Monday, sharing more details about her last hours alive.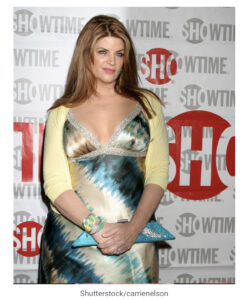 Kirstie Alley's early life was a rollercoaster. She was born on January 12, 1951, in Wichita, Kansas.
Kirstie Alley – early life
She graduated from Wichita Southeast High School and attended Kansas State and Kansas Universities, where she studied drama. However, her early days were marred by drugs.
"The truth of how I escaped Kansas is being high. I was drugged out of my mind … I got in the car, and I left to go to California," she told Parade.
"If I hadn't been drugged out, I would never have been able to realize my dream. It sounds so stupid but to extricate myself from Wichita, Kansas really took some doing."
"With reality shows and things like that on TV now, people probably feel a little more hopeful that they could make something of themselves. But at that time, 30 years ago, it was just like, 'How could I possibly dare to think that I could go be a star? How could I possibly think that?' That's more of a Midwest thing, you're sort of humbled, and if you're not humbled people will humble you, like, "Well, who the hell do you think you are to move to California and be a star? I mean, come on, Kirstie," she added.
Alley left Wichita to pursue an acting career in California. She started as an interior decorator, but the party lifestyle proved too much for her.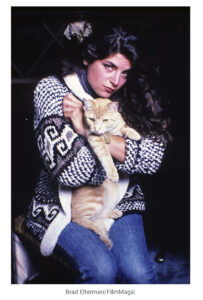 She entered a tumultuous period, during which she experimented with many drugs and surrounded herself with the wrong people. Then, in 1981, tragedy struck her family.
Start of acting career & move to Hollywood
A drunk driver hit her parent's car, killing Alley's mother and seriously injuring her father. It was, of course, a traumatic moment for the young woman. Years later, the drunk driver responsible spoke about the accident and wanted to meet Kirstie. However, the actress wasn't interested at all.
"I can understand why Kirstie doesn't want to talk with me," the drunk driver added. "But if she changed her mind, I would tell Kirstie and her father how truly sorry I am for what happened that night and the pain that I caused them."
The passing of her mother changed everything for Kirstie. She changed her lifestyle, moved away from drugs, and underwent rehabilitation. She also joined The Church of Scientology.
In 1982, she landed her earliest roles. She starred as half-Vulcan officer Saavik in the film Star Trek II: The Wrath of Khan, which would turn out to be her breakthrough role.
A few years later, Alley was cast as Gloria Steinem in the TV movie A Bunny's Tale. In 1985, she also played a minor role in the North and South miniseries, starring alongside Hollywood legend Patrick Swayze.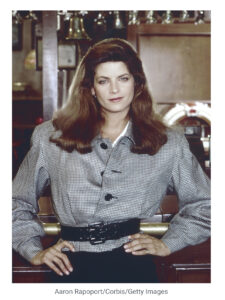 They weren't the most significant roles, but they allowed Kirstie to enter the Hollywood spotlight. Then, in 1987, she got the part that changed her life as she starred as Rebecca Howe in the sitcom Cheers.
Kirstie Alley – success on 'Cheers' & other work
Cheers propelled Alley to a whole new level of stardom, earning her recognition from viewers and critics alike. In 1991, she won a Golden Globe for Best Performance by an Actress in a Television Series – Comedy or Musical and an Emmy Award for Outstanding Lead Actress in a Comedy Series.
Following her exit from Cheers in 1993, Alley starred in several big productions, including winning a second Emmy Award for her part in the television movie David's Mother. She also appeared in the sitcom Veronica's Closet and the drama miniseries The Last Don in 1997.
The actress will also be fondly remembered for her role in films such as the Look Who's Talking movies and Drop Dead Gorgeous, where she starred alongside Ellen Barkin.
Alley appeared in many productions during the last ten years of her life. In 2012, the American people saw a new side to her as she competed in the TV dance competition Dancing with the Stars. She and dancing partner Maksim Chmerkovskiy placed second on the show – later the same year, she was invited back to participate in the All-Star competition.
Through it all, Kirstie also enjoyed a positive private life. She met her second husband, actor Parker Stevenson, and the couple tied the knot in 1983. They adopted son William and daughter Lillie.
Alley and Stevenson eventually divorced in 1997.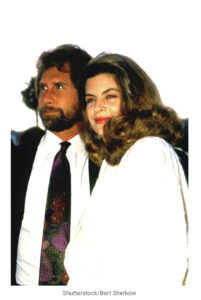 In 2017, Kirstie was diagnosed with Lyme disease. Speaking openly about it, the actress revealed how she had gained plenty of weight because of the disease caused by borrelia bacteria.
Kirstie Alley's inspirational weight-loss journey
"If I made cookies, I wouldn't eat two cookies. I would eat 12 cookies! And I really went off the rails … I started drinking 12 grape sodas a day. I was consuming massive amounts of sugar!" she explained.
Yet Alley's weight struggles went back further than that. In 2004, she opened up about how she, over one summer, had "gained around 40 or 50 pounds."
"Honestly, I didn't know how fat I was," she said. "Thanks to the tabloids, I went, 'Damn, girl, you're fat!'".
Perhaps it was that experience that gave her the inspiration for her new comedy series. One year after that interview with Oprah, Fat Actress premiered.
Kirstie had the lead role and the series was loosely based on her own life – it centers around an actress in Hollywood whose weight loss is the subject of every tabloid imaginable.
"I think women across the country will identify with her," co-creator Brenda Hampton told TODAY in 2004.
"It's difficult to lose weight and find a relationship, no matter where you live. It makes it all the more painful when you're in the spotlight."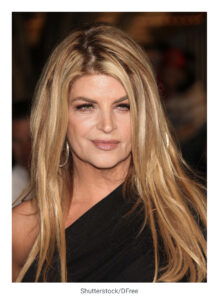 Yet after getting help from the weight-loss program Jenny Craig, things moved fast. For three years, Kirstie found a balance and steadily lost weight. Then, thanks to the program, she dropped 75 pounds and became a spokeswoman for Jenny Craig until 2007.
"No surgery, No flippin lasers"
By the time Kirstie was cast in Dancing With The Stars in 2011, she had once again gained weight. According to People, she weighed 230 pounds when the show started.
Yet when the competition had ended, she had dropped over 100 pounds. By all accounts, Kirstie worked extremely hard to achieve success on the dance floor.
Unfortunately, critics were vocal among TV viewers. Some speculated that Kirstie had undergone surgery or starved herself to get in shape for the program. Kirstie responded to the haters on Twitter:
"NO surgery, NO flippin lasers, NO barfing, NO starving … Jeez … my products, organic food, dance," she tweeted a few months after the show wrapped.
Alley appeared in her last production in 2020, starring in the television movie You Can't Take My Daughter.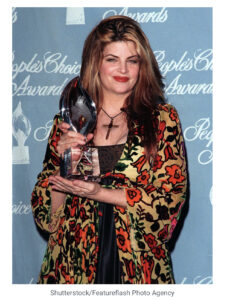 On Monday, December 5, her family announced that Kirstie Alley had passed away from cancer at age 71.
Kirstie Alley – cause of death & last hours
According to the family, it was "only recently" that her cancer had been discovered.
"To all our friends, far and wide around the world…We are sad to inform you that our incredible, fierce and loving mother has passed away after a battle with cancer, only recently discovered. She was surrounded by her closest family and fought with great strength, leaving us with a certainty of her never-ending joy of living and whatever adventures lie ahead," the statement read.
"As iconic as she was on screen, she was an even more amazing mother and grandmother.We are grateful to the incredible team of doctors and nurses at the Moffitt Cancer Center for their care. Our mother's zest and passion for life, her children, grandchildren and her many animals, not to mention her eternal joy of creating, were unparalleled and leave us inspired to live life to the fullest just as she did. We thank you for your love and prayers and ask that you respect our privacy at this difficult time. With love always, True and Lillie Parker."
On Instagram, her ex-husband Parker Stevenson shared a touching tribute to her.
"Dear Kirstie, I am so grateful for our years together and for the two incredibly beautiful children and now grandchildren that we have," he wrote alongside an image of Alley. "You will be missed. With love, Parker,"
In the last years of her life, Alley, a Scientologist, didn't leave her home in Clearwater, Florida.
Touching tribute from John Travolta
"She's done with LA.," a source told OK Magazine. "She's happily disappeared into a quiet life in Clearwater, where she can also be more open about her beliefs."
Another insider added: "Kirstie hasn't worked in over a year, and she's fine with that," an insider previously said. "She has no plans on returning to Hollywood."
After the news of Alley's passing, many took to social media to share tributes to her. One of those who did was John Travolta, who starred alongside Alley in the 1989 film Look Who's Talking and its two sequels.
In 2020, the Grease star lost his wife, Kelly Preston, to cancer. Travolta's wife, Kelly Preston, died of cancer at 57 in July 2020.
"I love you, Kirstie," Travolta wrote on Instagram. "I know we will see each other again."
The two shared an extraordinary relationship through the years. When appearing on Celebrity Big Brother, Alley explained that she at one point fell in love with John Travolta.
"He was potential marriage material. I almost ran off and married John," she said. "I did love him and still love him,' she reflected. 'And if I hadn't been married I would have gone and married him. And I would have been in an airplane."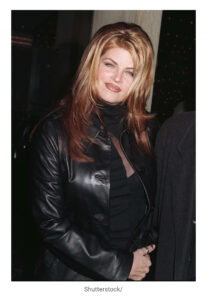 In 2018, Kirstie added more context to their relationship.
"A beautiful mama bear"
"John would agree it was mutual that we sort of fell in love with each other," Alley said of their relationship in 2018, adding that saying no to the romance was "one of the hardest things she's ever had to do."
She continued: "Because I was madly in love with him – we were fun and funny together. It wasn't a sexual relationship because I'm not going to cheat on my husband."
Another former colleague, Jamie Lee Curtis, whom she starred alongside in the 2016 horror series Scream Queens, also took to social media to pay tribute to Alley.
"She was a great comic foil in Scream Queens and a beautiful mama bear in her very real life. She helped me buy onesies for my family that year for Christmas," Curtis recalled.
"We agreed to disagree about some things but had a mutual respect and connection. Sad news."
Rest in peace, Kirstie Alley.