"She was a radiant beauty. Yeah, cascading hair. I remember. There was– that was very, very attractive. I'd never had that kind of an explosive chemistry situation with an actor, or actress," Liam Neeson CBS' 60 Minutes. That's how he remembers the first encounter he had with Natasha Richardson when they worked together on Broadway in 1993.
Neeson and Richardson could feel the attraction between them right from the start. But things were slightly complicated since Richardson was married at the time. Eventually, after she got a divorce, the two began what later became one of the most awe-inspiring celebrity relationships.
After tying the knot in July 1994, they went on to have two sons, Micheál and Daniel, according to Daily News.
Boys' night out! Liam Neeson and his sons cheer on their team at a NHL game in NYC https://t.co/RCmjB0436F pic.twitter.com/xrqhRf3wty

— People (@people) March 25, 2016
After several years of sharing a happy marriage, the tragedy struck when 45-year-old Richardson was on vacation with one of her sons in Canada. After she fell on a beginner's slope, there seemed to be nothing worrying and the actress refused to be taken to the hospital at least twice, according to People. Although she seemed fine, the fall did cause injuries that caused massive internal bleeding in her brain.
At the time, Neeson was shooting for a film in Toronto. "I spoke to her and she said, 'Oh, darling. I've taken a tumble in the snow.' That's how she described it," the Taken actor recalled on CBS' 60 Minutes.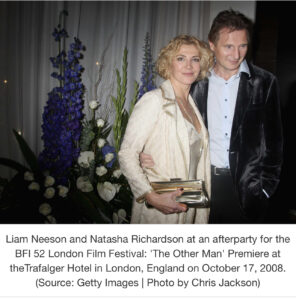 When Richardson finally reached the local hospital, it was three hours after the fall. Soon, Neeson flew down as well. "This doctor, he looked all of 17, showed me her X-ray. And you didn't need to be a rocket scientist to see what was happening. You know? It's– it was like a cartoon," he said. "You know, the brain's squashed up against the side of the skull. And it's– as the blood tries to get a release. You know?"
The actor was told that his wife was brain dead and it started becoming clear that those were her last moments. Neeson had no choice but to have his final conversations with her and do what they promised each other if something like this had to ever happen.
"She and I had made a pact. If any of us got into a vegetative state that we'd pull the plug. You know? So when I saw her and saw all these tubes and stuff, that was my immediate thought. Was, 'OK, these tubes have to go. She's gone.'"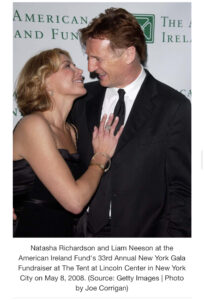 Natasha Richardson and Liam Neeson at the American Ireland Fund's 33rd Annual New York Gala Fundraiser at The Tent at Lincoln Center in New York City on May 8, 2008. (Source: Getty Images | Photo by Joe Corrigan)
"…She was on life support and stuff. And I went in to her and told her I loved her. Said, 'Sweetie, you're not coming back from this. You've banged your head. It's– I don't know if you can hear me, but that's– this is what's gone down. And we're bringing ya back to New York. All your family and friends will come.' And that was more or less it. You know?" Neeson said about the moment before letting the doctors take her off the machines that she was hooked onto.
Although it was devastating for him and his two sons, who were 13 and 12 when they lost their mother, there was something good it led to. "…Donated three of her organs, so she's keeping three people alive at the moment. Yeah. Her heart, her kidneys, and her liver," Neeson added.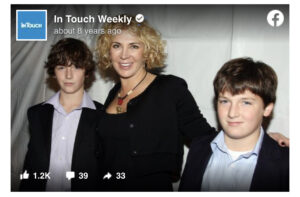 One of the ways he coped with her loss was by diving into work, which led him to make 20 movies since her death and strengthen his reputation as an action hero, even when he's in his late 60s. When he thinks of how Richardson would react to him being so successful as an action hero and the clout he has, he thinks "she'd be tickled" by it.
Several years have passed since the Neeson family lost a wife and mother. And in 2009, it was reported that Neeson's older son, Micheál was replacing his world-famous father's last name with his mother's to honor the late actress.
"He's taken, officially, the name of his mother. He's Micheal Richardson, not Micheal Neeson," said Richardson's mother, Vanessa Redgrave, according to the Daily Mail. "That wasn't because he wanted to avoid his father's fame, which is enormous. He wanted to hold his mother close to him — because she was a remarkable actress. Absolutely remarkable."