A Florida community is left mourning the loss of a father and son duo who shared an inspiring passion for music. 40-year-old Aaron Bates and his 17-year-old son Aaron "A.J." Bates II passed away in a fatal car accident on Saturday. The two were reportedly on their way to Florida State University's College of Music in Tallahassee, where the teenager had an audition.
Per The Ledger, both died on the spot after their vehicle crossed a median as a truck fatally struck them. Their cause of death is yet to be released. "As many of you may have already heard, this past Saturday we experienced a great loss," shared Hannah Smith, a former Lakeland High School head drum major on the Facebook page of the band.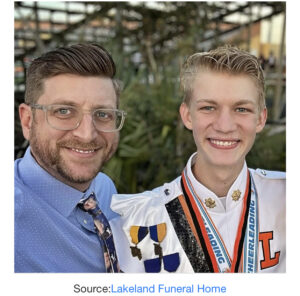 A.J. was the head drum major of his high school band just like his father who too was a drum major when he attempted the school. The band was equally important to him and years later Aaron went on to volunteer "his time and energy to support that same band as an adult." Both father and son were remembered as being "excellent bandsmen" who "created uncontainable joy for whomever they came in contact with."
"It is difficult to find words to express the impact that these two men had on the Dreadnaught Band program," wrote Smith in the heartbreaking tribute. "The Bates instilled an unparalleled sense of determination and commitment into the spirit of every band member, modeling habits to last for a lifetime." During this difficult time, the community has come together to support the family which is lovingly known as the "Bates Bunch."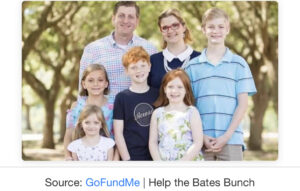 "Our hearts ache with the overwhelming sorrow at the loss of two of the most incredible, kind, funny, creative, generous, and loving members of the Bates family," read a post made on their GoFundMe page. "On Saturday, February 26, 2022, Aaron James Bates and his son, Aarom James Bates II (A.J.), unexpectedly died as the result of a tragic car accident in North Florida."
The father and son leave behind, Aaron's high school sweetheart wife and mother, Katie, and four younger children/siblings – Caleb, Nora-Claire, Caroline, and Parker. "Many have asked how to help. Your prayers, thoughts, words of support, and yes, financial support are greatly appreciated during this difficult time," wrote the organizer of the page. "There will be numerous costs in the coming weeks and months including but not limited to funeral, transportation, food, housing, and other living expenses that will now fall on Katie as a recently widowed mother and teacher."
Please click here if you wish to help the family.
Cover image source: Lakeland Funeral Home