Krista Gneiting was getting her students ready for a test at her Idaho school when she experienced every teacher's nightmare.
The middle school math teacher heard gunshots in the corridor of Rigby Middle School and went out to see where it was coming from.
When she glanced outside into the corridor she saw the school janitor lying injured on the floor.
Sixth-grade girl shot two students and custodian at Idaho middle school before being disarmed by a teacher

A victim appears to be taken into an ambulance following Thursday's shooting

Students embrace after a school shooting at Rigby Middle School in Rigby, Idaho on Thursday pic.twitter.com/TGvrWyaJF2

— Lilian Chan (@bestgug) May 7, 2021
A 6th grader, no more than 11 years old, had pulled a handgun from her backpack and began firing shots just before 9 am.
The teacher quickly closed her door and heard another two shots.
"I just told my students, 'We are going to leave. We're going to run to the high school. You're going to run hard. You're not going to look back, and now is the time to get up and go,'" she said as per Good Morning America.
But Krista didn't run, she stopped to try and help one of the victims in the hallway when she noticed a young girl holding a gun.
"Are you the shooter?" she asked the child.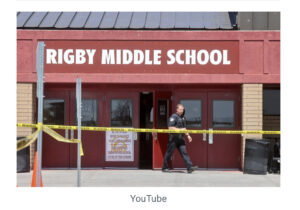 "It was a little girl and my brain couldn't quite grasp that," Krista said. "I just knew that when I saw the gun, I had to get the gun."
Krista remained calm and approached the girl as she slowly took the gun from the girl's hand and pulled her toward her in a hug.
"She didn't give it [the gun] to me, but she didn't fight," Krista said.
"And then after I got the gun, I just pulled her into a hug because I thought this little girl has a mom somewhere that doesn't realize she's having a breakdown and she's hurting people."
When police arrived on the scene, Krista stayed with the girl, remaining calm and explaining that the police would have to put her in handcuffs.
Krista Gneiting, meanwhile, said she hopes people can forgive the girl and help her get the support she needs, after the incident in May 2021.
"She is just barely starting in life and she just needs some help. Everybody makes mistakes," she told ABC News. "I think we need to make sure we get her help and get her back into where she loves herself so that she can function in society."
All three victims survived the shooting.
In the wake of the terrifying incident it also emerged that the school janitor was injured after he got in the way of the shooter and two other students.
A GoFundMe to help the janitor pay for his medical expenses raised more than $27,000.
Krista was later honored for her actions by Idaho Governor Brad Little, who led lawmakers in applause for her actions.
"Krista calmly took the gun away from a little girl in crisis, and then held her in her arms until police arrived," Little said. "Krista, please stand so we can recognize you for protecting everyone in the building that day and for your compassion with that sixth-grade girl."
My heart goes out to all those involved in this terrifying incident which leaves many wondering how a girl so young and unstable can access a gun let alone take it into a school.
I hope the victims have made a full recovery and this young girl gets the help she needs. Please share.