It was an opportune trip to a bar in Miami while shooting a movie that put Hollywood star Matt Damon in the path of his now wife Lucy Damon.
The movie star is considered one of the most bankable stars in Hollywood making his movie debut in 1988 in Mystic Pizza alongside Julia Roberts and nine years later he and Ben Affleck wrote and starred in Good Will Hunting winning them both an Oscar for Best Screenplay.
Damon has gone on to win two Golden Globe Awards, six Screen Actors Guild Awards and secure three BAFTA Award nominations and seven Primetime Emmy Award nominations.
But despite all his movie successes he considers himself most fortunate to have met Luciana Barroso, his now wife of 17 years, saying he "hit the jackpot" when he met her.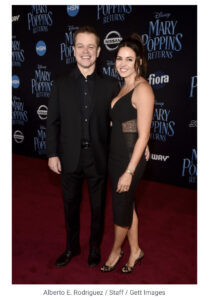 Alberto E. Rodriguez / Staff / Gett Images
"I'm so happy now; I'm so lucky. I hit the jackpot with my wife," he told Ellen.
The 51-year-old was shooting the movie Stuck on You in Miami and after a long day of work was asked if he wanted to go to a bar.
"We were supposed to shoot in Hawaii, then the movie got moved to Miami. I'd never really hung out in Miami, then one night in the middle of the shoot a couple of the guys said they were going to get a beer somewhere and I said 'I'm not really interested' but they dragged me along and we ended up in a bar where my wife was a bartender and I literally saw her across a crowded room," he told Ellen.
Luciana, who was a single mom to her four-year-old daughter at the time, also recalled the moment she met the actor in a rare interview with Vogue Magazine.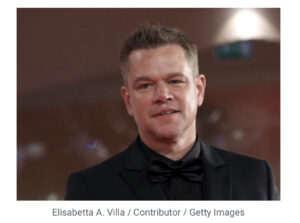 "But he had started getting recognized and asked for pictures and autographs," she said of that first moment meeting her now husband.
"And then it got kind of aggressive because people are drinking and stuff, and so he came and hid behind my bar … [wanting to] just hang out back there and have a drink. He says 'oh I saw you and I really wanted to talk to you'."
"So I put him to work with me! I said: 'you know, if you're going to be back here, you can't just be standing there!' He had trained as a bartender for a film years before, so he started making drinks. And he made me a ton of money in tips that night, because of course everyone wanted to go and see him. So it turned into a really fun night."
At the time she said, unlike most men, Damon was drawn to the fact she was a mom.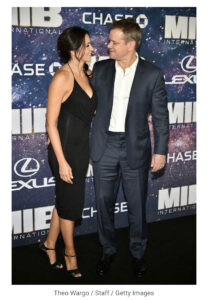 Some guys might have been different, they might think it's complicated, but for him it wasn't.
And despite the movie success and red carpet appearances, he will always be just Matt to her.
"When you meet somebody that you have a connection with, that's just the person that you have a connection with, all the other stuff— the movie-star part—wasn't really a factor. It was just Matt, to me he's just Matt."
The couple married in 2005 and as well as Damon becoming a stepdad to Lucy's daughter Alexia, the couple have three daughters Isabelle, Gia, and Stella.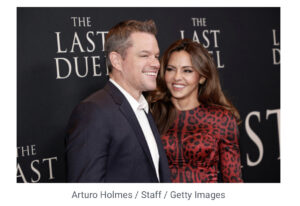 Damon, 51, has since starred in movies like Bourne Supremacy, Bourne Identity, Talented Mr Ripley, and Stillwater.
But since marrying and having children the actor admits that he will never spend more than two weeks away from his family while filming. If a project requires more than this then he tries to bring them with him.
"Every decision to make a movie is really up for to the family. If it is going to be too disruptive, I just can't do it," he said, per the Daily Mail.
"We try to not be apart for two weeks. We have this two week rule, but three weeks has been the longest we have ever been apart."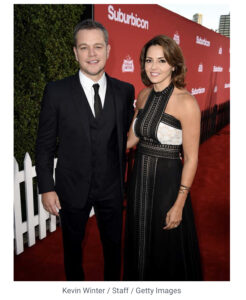 He added: "Sometimes it is an adventure. Last year I went to China for six months and it was a big family trip and that was awesome."
Despite being one of the biggest names in Hollywood, Damon has managed to keep his family out of the limelight which he credits with not being interesting enough for the paparazzi to pursue.
"They can try to stake me out, but they're always going to get the same story—middle-aged married guy with four kids," he previously told Esquire.
"So as long as that narrative doesn't change too much, there's no appetite for it. If I'm not jumping up and down on a bar, or lighting something on fire, or cheating on my wife, there's not really any story to tell."
This couple's relationship is one of Hollywood's success stories. It's clear that Luciana and his girls keep him grounded.
Please share with all the movie fans you know.