Sofia Andrade is a mother of three on disability so when she spent her last $2 on a scratch card and won $200, she couldn't believe it.
The New Bedford, Massachusetts, mom could have used the extra cash, but fate led her to spend it on a greater cause that day.
She saw a homeless man out in the cold on one of the most frigid days of 2016 and knew what she had to do.
"And I was like 'Where are you going? Can I buy you a cup of coffee?'" Andrade, 28, told ABC News. "I knew when I saw him that I'd been given this money to help him."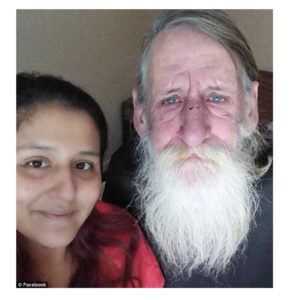 Sofia Andrade (left) won $200 from a scratch card, and then looked up to see Glenn Williams (right) shaking in the cold. She bought him coffee and spent her winnings on a two-night motel stay for Williams
Just the offer of a cup of coffee left the man in tears. Glenn Williams had been homeless for about three years and survives with the money he gets from panhandling.
In talking to him on a cold February night, Sofia suddenly knew she had to do more for him than just a cup of coffee. Sofia told WCVB that she never felt as if the money belonged to her, she felt the money was to help Williams.
She took him to buy coffee and asked him where he would be sleeping on a night where temperatures were set to drop to 25 F. Williams told her he would be sleeping on the street as the shelters were full.
Sofia couldn't accept this, so using the money she had just won on the scratch-off, she drove him to an area motel where she used her winnings to pay for a three-night stay.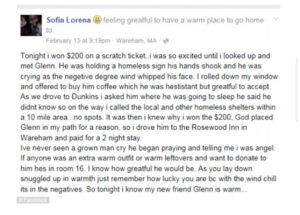 Her post went viral, and her GoFundMe page to help Williams ended up raising more than $5,000
The hotel manager was unsure as Glenn didn't have any ID on him so Sofia told him she was her uncle and he could use her documents to authorize his stay. The manager eventually agreed and reduced the nightly rate.
"I did. I did," Sofia admitted to ABC News. "I could not leave him outside."
Sofia shared her story on social media and the response was so overwhelming she set up a GoFundMe for him to see if she could help Glenn long term. Offers of help for Glenn included clothing, food and even a haircut.
More than $13,000, nearly three times the original goal of $5,000, was raised with the hope of helping Glenn off the streets.
Glenn told WCBV-TV that he was "overwhelmed" by all the help, which included donations of warm weather wear and even a Valentine's Day card.
"There's a lot of good people in this world … and I just want to thank everybody," he said.
Andrade took Williams to get official identification as well as health insurance and made plans to apply for housing for him.
She had two dollars, bought a scratch ticket, and won $200. What she did next is heartwarming.
Sofia is an inspiration; nobody would have blamed her for keeping that $200 for herself and her children but to use it to help a complete stranger is astounding.
Help us pay tribute to this exceptional human being by sharing this story.