Looking fierce and sultry, strawberry-blonde locks framing her timeless face, Nicole Kidman dazzled fans at the 95th Academy Awards with her biggest champion, Keith Urban, ushering her down the champagne-colored aisle to the Oscars.
The Oscar-winning beauty shared the carpet at the Oscars with her husband of 16 years, who complemented her embellished black Giorgio Armani Privé gown with a black tuxedo.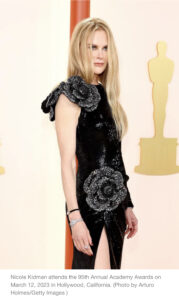 The flattering form-fitting gown, with a thigh-high slit, highlighted Kidman's slender body and elongated her already lengthy legs. Posting a photo of herself on Instagram before walking the Oscar carpet, fans were stunned and made comments like, "…you are embodying Practical Magic Nicole," and "Biggest slay of the night."
Later Kidman shared the stage with actor Idris Elba to present the Best Director category.
The 55-year-old Australian beauty didn't receive any nominations this year, her last was in 2022 for her portrayal of the legendary Lucille Ball in Being the Ricardos, and her last win was in 2003 for Best Actress in The Hours.
But, like a lovestruck schoolboy, her doting husband awarded her with PDA and openly celebrated his affections toward her.
The night before the pageantry of A-list celebrities, Kidman attended the pre-Oscars dinner party at the Beverly Hills' Polo Lounge. Seducing cameras with a classic but modern navy-blue tweed outfit–a skirt hemmed with black tulle paired with a double-breasted blazer–Kidman finished her look with a ponytail, sling-back heels and pearls draped around her neck.
Prior to the event, Kidman flaunted her gorgeous gams in a chic yet provocative picture on her Instagram with the caption, "Saturday night." Her fans quickly jumped in with comments on her photo. "Legs for days," said one while another simply said "#goddess" A third added, "My. God. *faints"
But the same body that triggered almost 1 million likes along with thousands of steamy comments, were also targeted by trolls only weeks before.
People called Kidman "terrible," "malnourished," and a "walking skeleton."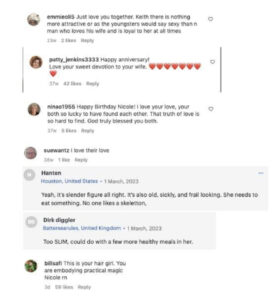 On March 1, 2023, Kidman and Urban, toting their daughters Faith and Sunday, revelled in some beach time along the shores of Sydney.
The family did what most people do on a beach, and they dressed for it. Urban went topless and Kidman, a fair-skinned natural redhead, wore a protective long-sleeved swimsuit or a rashie, a style of swimwear she's been sporting for years.
Explaining that Kidman keeps active with yoga, spin and running, The Daily Mail UK called her a "beach babe" and wrote, "Nicole could not wipe the smile off her face as she spent some quality family time with her family."
Still, the photos of Kidman in her UV rashguard sparked a rash of unforgiving comments from fans, who accused her of being malnourished and too thin for her age. "TOO slim. Could do with a few more healthy meals in her." Another said, "Yeah. It's slender figure all right. It's also old, sickly and frail. She needs to eat something. No one likes a skelet(t)on…"
However, Kidman's 55-year-old husband is unapologetically her biggest fan and adorable when expressing his love for his wife.
The pair, displaying genuine gestures of devotion, are known, and revered for their public affections.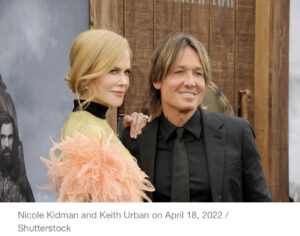 Gushing over his wife, Urban escorted Kidman–nominated for her performance of Grace Kelly in Grace of Monaco– At the 2016 SAG Awards. Speaking to E News! Kidman explained how she prepared for her role, "I met a number of people who knew her. I also just studied her. My mom adored her. So my whole life, it was always Grace Kelly. You know, you could fall into the Marilyn Monroe camp or the Grace Kelly camp, and my mom was the Grace Kelly camp."
She then turned to her husband and asked what camp he falls into.
He responded with a heart-melting, "the you camp." In June 2022, celebrating Kidman's birthday, Urban posted a sweet photo of him kissing her forehead. "Happy birthday babygirl xxxx" it said.
Fans responded favorably, many saying how they love their love. A few days later, on their 16th anniversary, Urban posted a cute photo of them–Kidman in a summery dress topped with a straw hat and Urban in a blue baseball hat with a matching t-shirt–with the caption, "Happy sweet 16 baby xxxxx"
Fans around the world responded to the casual photo of the two with comments like "Just love you two together. Keith there is nothing more attractive or as the youngsters would say sexy than a man who loves his wife and is loyal to her at all times." Another said, "Happy anniversary! Love your sweet devotion to your wife" The year before, on their 15th anniversary, Urban posted a photo of him embracing his wife, who was giggling in his arms.
There is no denying that the couple's enviable love is and unrehearsed, and despite all the criticisms, Urban continues to be his wife's biggest cheerleader.