Perhaps the most fantastic thing about life on this planet is the unpredictable nature of things.
Sure, there are times when the unexpected can be upsetting, or even heartbreaking, but there are also plenty of occasions wherein we're pleasantly surprised by something we thought would never happen.
Alison Spooner and Dean Durrant look like an average couple from the outside, but it turns out their genes are special indeed. This is evidenced in the miracle that occurred in not just one set of twins they had, but two …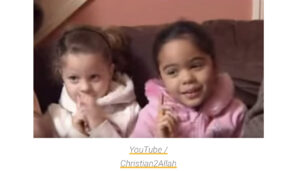 Alison is white-skinned, with blue eyes and red hair, but her partner Dean is West Indian in origin. As a result, he's naturally much darker, boasting brown hair and eyes, as well as a dark complexion.
When the couple first discovered they were pregnant with twins, they assumed their babies would take after both of them. When Alison gave birth to Laura and Hayleigh in 2001, however, the parents were met with a surprise.
Laura had inherited her mother's light skin, blue eyes, and red hair, while her twin sister had much taken after her father.
Of course, Alison and Dean were astounded, as were their families. Yet while the phenomenon is extremely rare, it's not altogether unheard of.
Growing up wasn't always easy as their parents had to field questions about how this could have happened and comments of disbelief, and then the girls would face questions from their friends at school.
According to reports citing a geneticist, the odds of twins being born biracial is about 1 in 500.
Fast forward seven years and Alison found herself pregnant again … with another set of twins!
This time around, Alison was induced at 37 weeks when doctors found that her babies were in the breech position. Immediately after the delivery, the babies were rushed to intensive care due to problems with their breathing, meaning Alison and Dean didn't get the chance to see them properly.
When they could finally look upon their new babies, though, they realized that they'd defied yet more odds … they had another set of miracle biracial twins!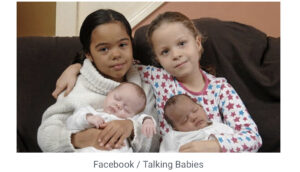 Little Leah has Alison's white skin and light features, while sister Miya was born with her father's – and Lauren's – darker features.
Dr. Sarah Jarvis from the Royal College of General Practicioners told CBS News, even nonidentical twins aren't that common.
"To have two eggs fertilized and come out different colors less common so to have it happen twice must be one in millions," she added.
"I'm almost blown away as the rest of them, there's no easy way to explain it all," proud dad Dean told CBS News. "I'm still in shock myself even though the first ones were 7 years ago, it's amazing."
Leah and Miya are helped by their two older sisters who have been able to guide them through the challenges.
Leah shared: "Lauren and Hayleigh are my heroes. I like my older sisters. We want to be like them when we are grown-up."
The girls realize they are lucky to have each other and, despite their physical differences, said that they are similar in many ways.
Hayleigh explained: "We say the same things at the same time and finish each other's sentences.Sometimes I know exactly what she is thinking."
The world works in mysterious ways, but one thing's for sure: Alison and Dean are lucky to have been blessed in such a way.
Share this article if it put a smile on your face.