A couple in Tennessee is left mourning the loss of their 7-year-old daughter, who died within 72 hours of testing positive for COVID-19. Adalyn Graviss, a second-grader in Knoxville, Tennessee, developed a severe neurological response to the coronavirus and tragically passed away on February 7.
"She was just a happy, healthy, normal, beautiful soul," Adalyn's mother, Jennifer, told Good Morning America. "She was just so sweet, an amazing kid." According to reports, Adalyn had not been vaccinated against COVID-19 yet and on the morning of Friday, February 4, she began feeling hot.
The young girl immediately informed her parents, who checked her temperature and found it was 102. After taking an at-home COVID-19 test, they were left worried when it came back positive. That day, Adalyn stayed home from school and was still well enough to play in the front yard. But "all of a sudden" she fell severely ill and was struggling to walk or even speak, the devastated mother told Knox News.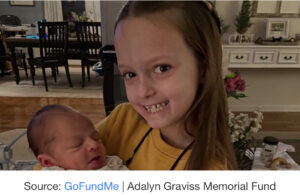 "It was right around the nine o'clock hour when we noticed her speech was all but gone, though she was still responding to us," the girl's father, Adam, recalled. "By 10 o'clock, I was in the emergency room [with her], and she was unresponsive at that point." Adam, who still hasn't been able to accept his daughter's death continued, "It was just so fast. Hours before going to the hospital, she was running in the front yard."
After assessing her condition, doctors at the Monroe Carell Jr. Children's Hospital at Vanderbilt in Nashville placed Adalyn on an ECMO machine, a device that pumps a patient's blood outside the body to oxygenate it while their body recovers. It's reportedly the last solution used for severely sick COVID-19 patients. "Even while it was happening, it didn't seem real. Her levels were improving and then she just took a turn for the worse," recalled Adam.
Shortly after doctors determined that Adalyn was suffering from a severe case of COVID-19 and that her condition had progressed quickly to severe myocarditis, i.e. the inflammation of the heart, and acute disseminated encephalomyelitis (ADEM), which is a rare neurological condition where an infection like the coronavirus, triggers inflammation of the brain and spinal cord which then damages neurological function.
"They think her body was attacked," said Jennifer, per Knox News. Just two days after being admitted to the hospital, the little girl passed away. Now doctors are speculating that her severe reaction to the virus could have been due to her Raynaud's syndrome, where parts of the body feel numb in response to stress or cold temperatures.
"[Adalyn's death] is a big reason of why we don't roll the dice on a virus like this," explained pediatric infectious disease expert Dr. Isaac Thomsen. "This is not something to mess around with." He advised, "The takeaway for parents is this is a virus that we have got to take very seriously and one we have a safe and effective vaccine for." Apparently, Adalyn's parents had been planning on getting her vaccinated after she became eligible for it in November but postponed the plan while continuing to practice precautions.
A GoFundMe page has since been created to fund the little girl's memorial. Please click here if you wish to donate.
Cover image source: GoFundMe | Adalyn Graviss Memorial Fund