Desperate times call for desperate measures, especially when it comes to staying warm during the cold winter months.
Louis C. Hicks, a 92-year-old WWII veteran, heated his home in Austin, Texas in an unconventional and unsafe way: his gas-powered stove and oven.
When the police found out how he was keeping warm they stepped in and helped.
"It means everything. The things I've been trying to do since the '40s…I've been asking for help. And now, it just came in. God is good," he said.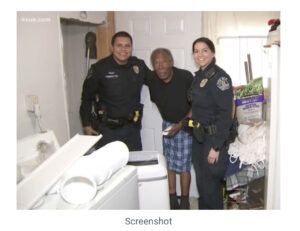 In 2019, Hicks called 911 to report stolen tools from his shed. When Officer Chasity Salazar arrived at his home to complete the police report, Salazar noticed Hicks' heat source.
"I had realized that he's using the oven. I know that's not safe. His gas is on."
Hicks had been using his stove and oven to heat his home. He would use a fan to circulate the warm air.
Previously he had been using a heater, but once that burned a hole in the floor he switched to something even more dangerous.
Hicks knew he needed help: "You hate to ask anybody 'cause sometimes they'll frown on you, and I'm a true veteran. I won't ask. I won't ask."
But he just couldn't.
Thankfully, Salazar saw his need and quietly took care of him.
With the help of her coworkers at the Austin Police Department and several charities, Salazar and Officer Bino Cadenas were able to surprise Hicks with an electric fireplace.
When we asked Mr. Louis C. Hicks how he felt now that he has this new heater, he could not hold back his tears. @KVUE pic.twitter.com/jFD3yICXD2

— Pattrik Perez (@PattrikPerez) January 29, 2019
"I've never had no one to do nothing for me," he said. "After my mother passed away and left me to take care of my two sisters … nobody never did nothing to help me."
These are the kinds of stories I want to see about our police officers.
Share if you want to continue reading more about the kindness of our officers.